Group
1 Hour (1 Activity)
•• Fun Run/Walk/Bike
Ticket
Online.
gg.gg/EH2018
IDR.250rb until 25 Maret 2018
Discount 10% untuk Grup min 7 peserta. Kode ehvri
Info
contact@virtualrun.id
RPC
Jersey, e-Certificate, Medali Finisher, Lucky Draw
Earth Hour Night Run and Cycle • 2018
Selama satu dekade Earth Hour telah berhasil memobilisasi jutaan orang untuk aksi penyelamatan iklim di 187 negara dan wilayah. Di Indonesia sendiri, pada tahun 2017 Earth Hour telah didukung oleh 67 kota dan digerakkan oleh 1.500 volunteer aktif & 2 juta pendukung melalui aktivasi digital.
Perayaan Earth Hour tahun ini bertema
Connect To Earth
, tentang bagaimana terhubung kembali dengan bumi sebagai tempat tinggal bersama bagi manusia dan makhluk hidup lainnya. Kita semua dapat melakukan aktifitas-aktifitas yang ramah lingkungan seperti mengurangi penggunaan plastik, tanam pohon, mengkonsumsi bahan makanan berkelanjutan, dan tentunya beraksi bagi planet bumi.
Sebagai bentuk dukungan bagi kampanye ini, Virtual Run Indonesia bekerja sama dengan WWF-Indonesia menyelenggarakan "
Earth Hour Night Run and Cycle 2018
", yaitu berlari atau berjalan atau bersepeda minimal 60 Menit untuk mendukung kampanye Earth Hour.
Kamu dapat melakukannya di lokasi mana saja pada waktu yang dapat dipilih, sendiri atau berkelompok, minimal 60 Menit pada pada rentang 23-25 Maret 2018.
Kamu juga dapat menambahkan donasi diluar biaya pendaftaran. Seluruh keuntungan dari kegiatan ini akan didonasikan kepada WWF-Indonesia untuk upaya konservasi alam, dan dapatkan kesempatan mendapatkan hadiah bagi yang beruntung.
Karena komitmen kamu bagi planet bumi akan berdampak besar secara sosial maupun lingkungan.
Let's Connect To Earth!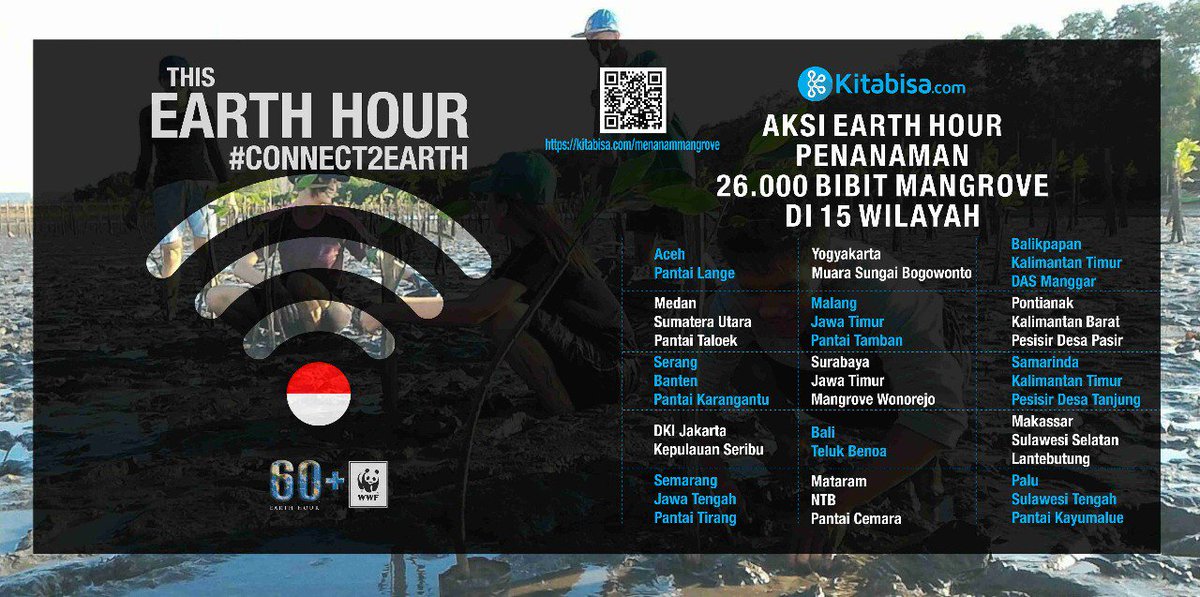 kitabisa.com/menanammangrove
LariKu.info/hour18