Group
5K • IDR.150/350rb •
10K • IDR.250/450rb •
21K • IDR.450/650rb •
42K Single • IDR.550/750rb •
42K Ekiden • IDR.1,8/2jt • (4 org)
• Road / Charity Run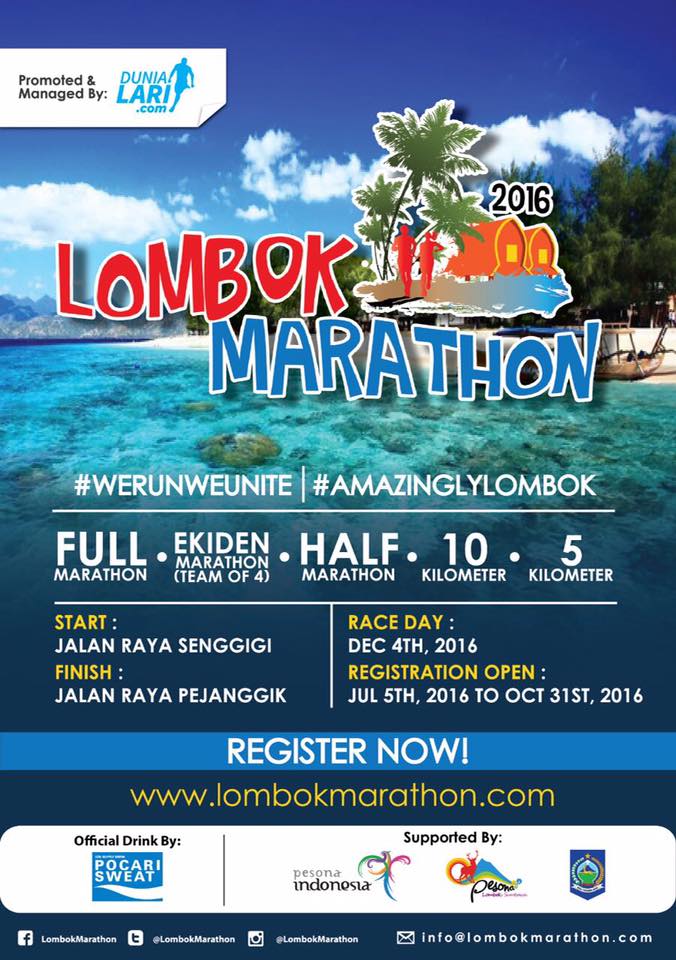 🅻🅾🅼🅱🅾🅺 🅼🅰🆁🅰🆃🅷🅾🅽
The inaugural Lombok Marathon 2016 takes place on a scenic, point-to-point course. It starts on the west lombok, Jl Senggigi and end at of Jl. Pejanggik Mataram City at the Governor building with live traditional music motivating you to cross the finish line. The event also includes a pre-race dinner, top-notch expo, and post-race festival complete with live music and a food festival. This year there is a 5,000-participant limit, so register early to ensure a spot.
Lombok Marathon • 04 Desember 2016
Other Running Events ...
Lombok Marathon • 2017 When 03 Desember 2017 re-scheduled 28 January 2018 Where Start. 42K/21K • Pantai SengigiStart. 10K/5K • Ex Bandara Selaparang Lombok Finish. Kantor Gubernur NTB, Mataram, Nusa Tenggara […]
Tondano Lake Marathon • 2017 When Minggu, 05 Agustus 2017 Where Danau Tondano, Minahasa, Sulawesi Utara Group 1.7K • COT.1jam • IDR.50rb 5K • COT.1,5jam • IDR.250rb 10K • COT.2jam • IDR.350rb 21K • COT.3,5jam • […]
Mekaki Marathon • 2017 When Minggu, 30 April 2017 Where Finish @ Pantai Mekaki, Sekotong Tengah, Lombok Barat, Nusa Tenggara Barat Group 5K @ Pelangan • IDR.150/200rb 10K @ Tembowong • IDR.250/300rb 21K @ Pantai […]