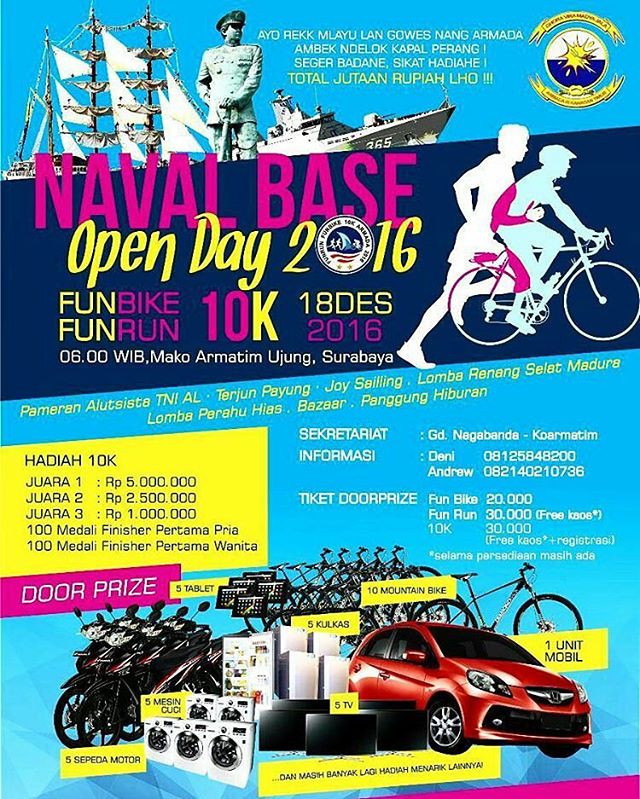 πŸ…½πŸ…°πŸ†…πŸ…°πŸ…» πŸ…±πŸ…°πŸ†'πŸ…΄ πŸ…ΎπŸ…ΏπŸ…΄πŸ…½ πŸ…³πŸ…°πŸ†ˆ 2016
Calling all runners for joining NBOD in Mako Armatim ujung, Surabaya.
Grab the ticket only 20k for fun bike and 30k for fun run.. and get special Doorprize!!
Naval Base Open Day (NBOD) dilaksanakan setiap tahun dalam rangka memeriahkan peringatan Hari Armada RI. Pangkalan TNI Angkatan Laut terbesar di Indonesia yang bermarkas di Ujung, Surabaya ini dibuka untuk masyarakat umum. Pada saat Naval Base Open Day, masyarakat diperbolehkan untuk mengunjungi dan masuk ke Markas Komando Koarmatim serta naik ke kapal-kapal yang sandar di dermaga di Koarmatim.
Masyarakat dapat menyaksikan pameran Alat Utama Sistem Senjata (Alutsista) yang dimiliki TNI AL, bazar, dan pangung hiburan. Masyarakat juga bisa mengikuti lomba yang digelar oleh panitia, yaitu lomba lari 10 K, serta acara Gowes Bareng (Fun Bike).
Untuk pendaftaran dan pembelian tiket silahkan hubungi
bapak deka +6281217670205 bapak kunto 082131870933
Naval Base Open Day β€' 18 Desember 2016
Other Running Events ...
Naval Base Open Day β€' 2017 When 17 Desember 2017 Where Mako Armatim Ujung, Semampir, Surabaya, Jawa Timur Group 10K β€' Fun/Road Run Ticket Only IDR.35rb β€' Offline. Wisnu 0813 3232 5324 / […]
BCA Run – Surabaya When : Where 11 Desember 2016 @ CitraLand - Surabaya - Jawa Timur Category 5K • IDR.150/300rb 10K • IDR.200/350rb •• Road Run Web bcarun.com […]
St. Yakobus Fun Run When : Where 12 Desember 2016 @ Lapangan Parkir Gereja St. Yakobus , Citraland, Surabaya, Jawa Timur Category 9K / 5K •• Road Run Socmed […]