When : Where
29 October 2016 @ Swiss German University – BSD City EduTown – Tangerang Selatan , Banten
Ticket
1.Slot IDR.250rb • 3.Slots IDR.700rb • 5.Slot IDR:1.250rb • 7.Slot IDR:2.000rb
Online.
goo.gl/uUZfwx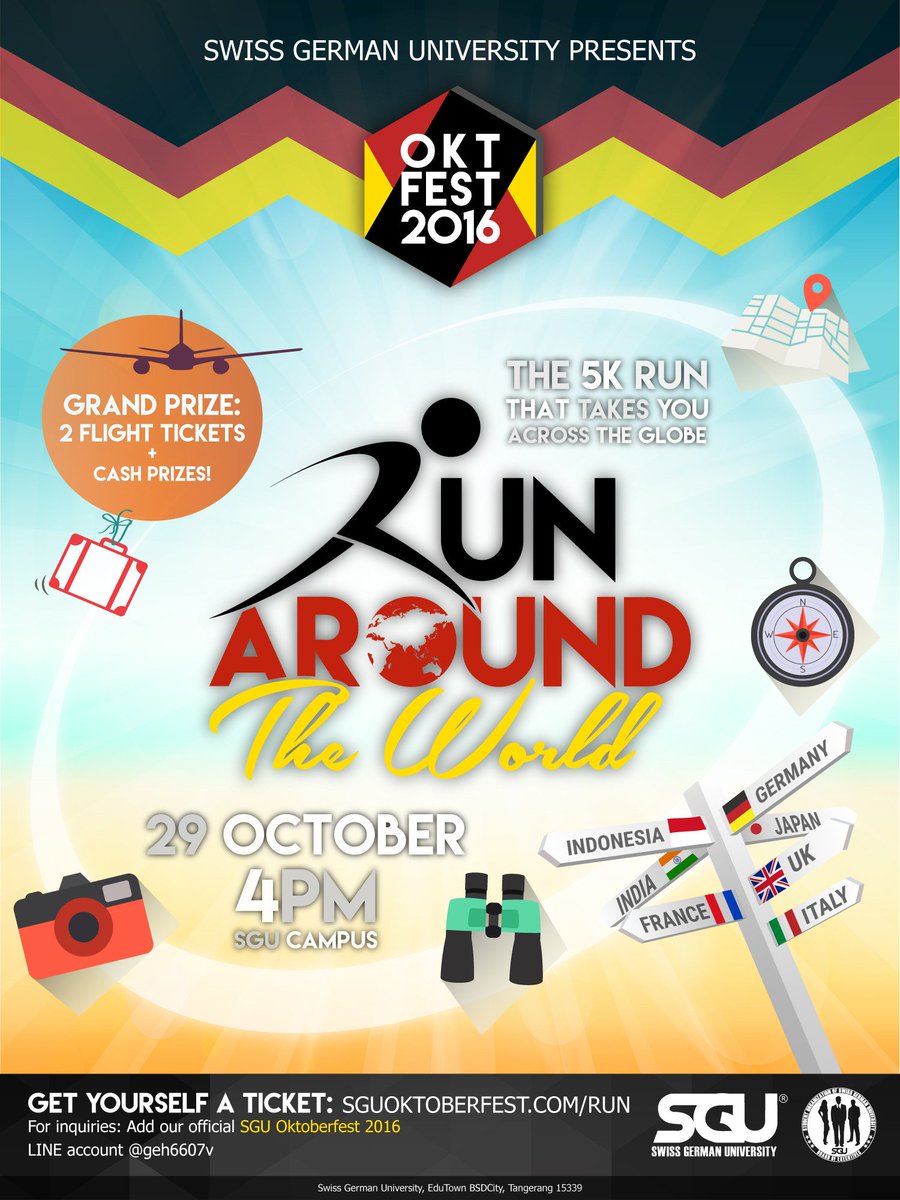 🆁🆄🅽 🅰🆁🅾🆄🅽🅳 🆃🅷🅴 🆆🅾🆁🅻🅳 2016
Are you ready to travel the world? Swiss German University Presents
"Run Around The World
: The 5K that Takes You Accross the Globe"
WIN 2 FLIGHT TICKETS
(PP) + Cash prizes! First ever TRAVELLING-THEMED RUN: Spend your sunset 'visiting' your favourite countries. Each post will represent a different country. Collect the souvenirs, reach the finish line, and celebrate Oktoberfest with us afterwards! Acting as the Main Event of the OktoberFest2016, "Run Around the World" is a travelling-themed 5K run that will be held right before (and therefore lead up to) the Closing Ceremony. With the overarching theme being 'travelling', the runners ('Travellers') will start off in Indonesia at the Starting Point, and run through various countries (each post will represent a different country) until they arrive at their final destination, Germany, at the Finish Line. Travellers will then proceed to the Closing Ceremony (thus figuratively celebrating Oktober Fest "in Germany"). The Run will act as a 'scavenger hunt' as well, that is, Travellers will have to collect various objects ('Souvenirs') from each country/post. Successive posts will have lesser and lesser items such that not every Traveller will be able to get all the Souvenirs. The first 100 people to collect all Souvenirs from every country/post will win medals and other prizes. This will be the main 'game'/objective of "Run Around the World". Also, at the end of the run, the Souvenirs that they have successfully collected will be exchangeable with various sponsored products. Get ready for take off: Saturday, 29 OCTOBER 2016 Swiss German University – BSD City EduTown
…
---
Other Running Events ...
CombiRun 2016 When : Where 13 November 2016 @ The Breeze – BSD City , Tangerang Selatan , Banten Category 10K • Individual/Team • COT.2Hours • IDR.275/325rb 5K • COT.1Hours • IDR.225/275rb […]
The Color Run Indonesia • 2017 When Minggu, 01 Oktober 2017 Where Alam Sutera, Serpong, Tangerang Selatan, Banten Group 5K •• Color/Fun/Road Run Web bit.ly/colorrunid or thecolorrun.co.id […]
Run 4 Vacation • 2017 When Minggu, 30 Juli 2017 Where The Breeze - BSD City, Serpong, Tangerang Selatan, Banten Group 3K / 5K / 10K ••• Fun/Road Run Web bit.ly/run4v or infonitas.com/event/r4v […]