When
Sabtu, 29 April 2017
Group
21K • COT:6Hours • IDR.400rb
42K • COT:9Hours • IDR.500rb
•• Trail Run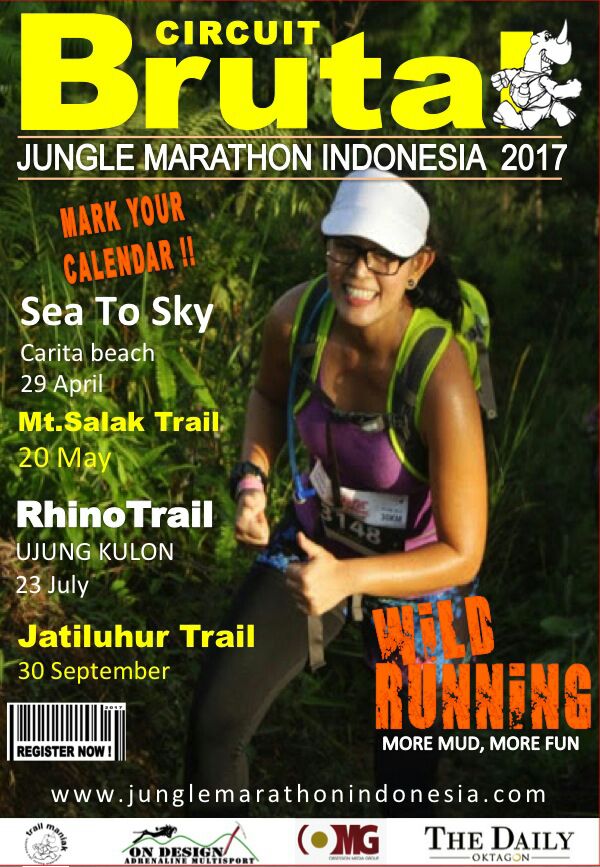 🆂🅴🅰 🆃🅾 🆂🅺🆈 – 🅲🅰🆁🅸🆃🅰 🅱🅴🅰🅲🅷 • 2017
Pantai Carita terletak di Banten barat, antara Kabupaten Labuhan dan Kabupaten Padeglang. Untuk menuju pantai Carita dapat mengunakan transportasi darat, sekitar 3 jam perjalanan dari Jakarta. Pantai Carita memiliki pantai yang luas untuk berenang, air pantai carita relatif tenang, di sisi pulau ada gunung dan hutan sangat menarik untuk dijelajahi. ​ Brutaleers …Sea To Sky JMI 2017 akan melalui pantai pasir putih Carita, pedesaan carita, sawah, perkebunan, gunung, hutan, juga akan melalui sungai dan air terjun Curug Gendang. Jalur lari alam yang menantang, Brutaleers harus bergabung trail running race "Sea To Sky, Jungle Marathon Indonesia 2017".
---
Carita Beach is located in West Banten, Labuhan district, Padeglang regency, which is accessible by any land transportation and takes about 3 hours drive from Jakarta and has a great beach for swimming, as the water is relatively calm on this side of the island and great mountain and jungle for trail running. Brutaleers will run through the white sand beach Carita, Carita countryside, rice fields and plantations, the mountain and forests, and also going through a river and waterfall curug gendang. The Route is challenging, and Brutaleers must join trail running race "Sea To Sky, Jungle Marathon Indonesia". Informasi : E-mail: seatoskyjmi@yahoo.com Twitter: @jungleindonesia Telepon / WhatsApp: +62 899 222 7655 / Kiki +62 812 8661 1962 / Budcay
…
---
Other Running Events ...
Sea To Sky • 2017 When 29 Oktober 2017 Where Lippo Carita Beach, Sukajadi, Carita, Pandeglang, Banten Group 21K • COT:6Hours • IDR.400rb 42K • COT:9Hours • IDR.500rb •• Trail Run […]
Rhino XTriathlon • 2017 When 24 September 2017 Where Tanjung Lesung Beach, Panimbang, Pandeglang, Banten Group X-Triathlon Rhino • Swim 1000m Bike 20K Run 10K • Individual IDR.1100rb / Team Relay IDR.1500rb […]
Mandiri Jogja Marathon • 2017 When Minggu, 23 April 2017 @ 05:15 Where Candi Prambanan, Bokoharjo, Prambanan, Sleman, DI Yogyakarta Group 42K / 21K / 10K / 5K • • Road Run Web [ bit.ly/jogjamarathon ] […]