Category
5K • IDR.150rb
10K • IDR.200rb
•• Trail Run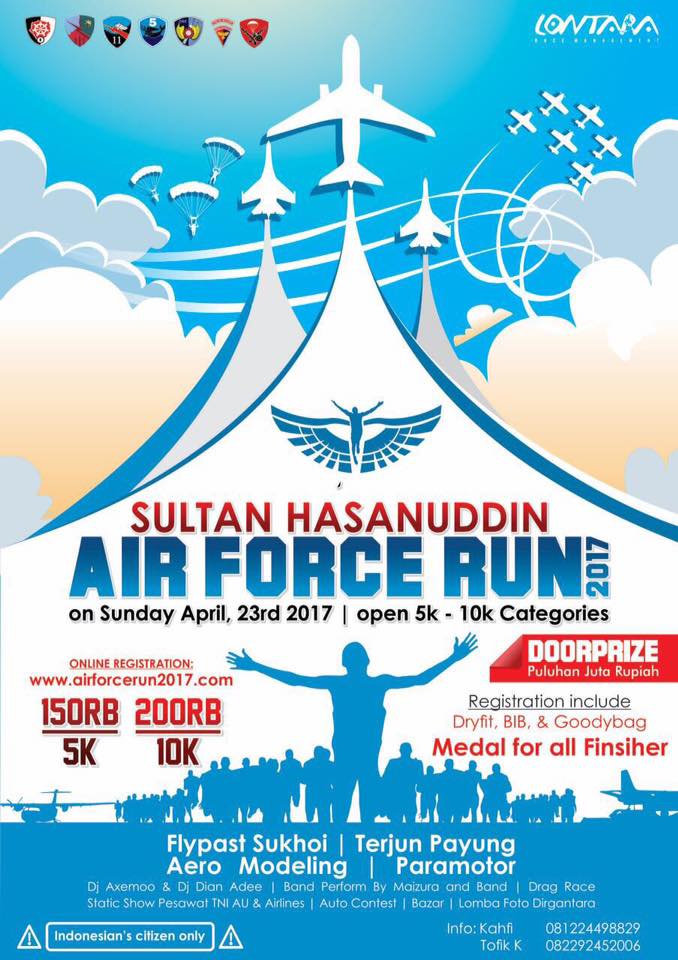 🆂🆄🅻🆃🅰🅽 🅷🅰🆂🅰🅽🆄🅳🅳🅸🅽 🅰🅸🆁 🅵🅾🆁🅲🅴 🆁🆄🅽 • 2017
Dalam rangka menyambut HUT TNI AU yang ke-71, Pangkalan TNI AU Lanud Sultan Hasanuddin akan menyelenggarakan event "SULTAN HASANUDDIN AIR SHOW 2017" dengan tema "FEEL THE POWER OF THE AIR FORCE".
Adapun Kegiatan yang akan ditampilkan diantaranya adalah demo udara dari tim aerobatik TNI AU yaitu Fly past pesawat Sukhoi, Air Force Run, dan berbagai macam perlombaan dan hiburan lainnya.
Air Force Run Makassar 2017
Event ini merupakan salah satu bentuk upaya perwujudan TNI AU guna mendukung program kerja Kepala Staf Angkatan Udara yaitu "Terwujudnya Profil TNI AU yang Profesional, Modern, dan Dicintai Rakyat",sehingga diharapkan kebersamaan antara TNI pada umumnya dan TNI AU pada khususnya kepada masyarakat akan semakin kuat dan erat.
Info :
Muh Fityatul Kahfi – 081224498829
Id Line : @fityatulkahfi
Telegram : 081224498829
Whatsapp : 081224498829
…

---
Other Running Events ...
Dirgantara Fun Run • 2017 When Minggu, 16 April 2017 Where Lapangan Kohanudnas, Pangkalan TNI AU Halim Perdanakusuma, Jakarta Timur, DKI Jakarta Category 5K • IDR.200rb 10K • IDR.250rb […]
Halim Runway 2017 When : Where 07 Januari 2017 - 05:00 @ Stadion Labda Prakasa Nirwikara, Pangkalan TNI AU Halim Perdanakusuma, Jakarta Timur, DKI Jakarta Category 5K • IDR.200rb • 500 slot […]
Galesong Trail Run • 2017 When Minggu, 02 April 2017 Where Paddy Valley Golf, Pallantikang, Pattallassang, Gowa, Sulawesi Selatan Category 15K • IDR.200rb 7K • IDR.150rb • • Road Run […]