Postpone
Diinfokan kepada seluruh peserta Aceh Marathon 2018 yang telah terdaftar, berdasarkan keputusan Pemerintah Daerah Provinsi Aceh sebagai pihak penyelenggara yang didasari dengan berbagai macam pertimbangan, acara Aceh Marathon 2018 telah ditangguhkan. Mengenai tanggal kepastian acara ini, masih akan terus diinformasikan selanjutnya.
Bagi peserta yang telah mendaftar dan ingin mengundurkan diri oleh karena sesuatu dan lain hal, diberikan keringanan berupa pengembalian "Biaya Pendaftaran" secara utuh tanpa ada potongan (biaya MDR dan biaya transfer bank tidak termasuk dalam biaya pendaftaran). Diluar dari biaya pendaftaran tersebut, pihak penyelenggara masih akan membicarakan hal ini untuk mencari solusi terbaik.
Group
•• Road Run
5K • COT.3h0m • IDR.100/200rb
10K • COT.3h0m • IDR.175/350rb
21K* • COT.3h0m • IDR.400/500/800/1000rb
42K* • COT.3h0m • IDR.600/850/1200/1700rb
open at 01 feb 2018
• Early Bird only 200 Slots
• Max. Slots – 4000 Participant
Online.
bit.ly/acehmar
*
for 21K & 42K : fee including transport from Banda Aceh Airport to Race Vanue, vice versa.
Info
+62 859 2191 7448 / +62 21 2598 2209 / info@acehmarathon.co.id
Prize
for 1st, 2nd & 3rd winner each Group, Open/National or Master @ male & female
and 1st, 2nd, 3rd, 4th & 5th winner for 42K International @ male & female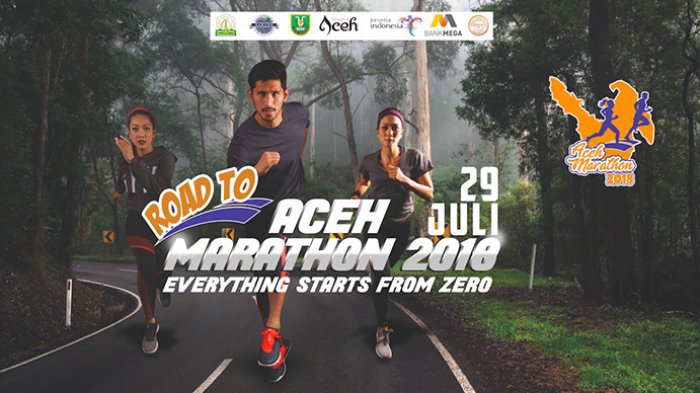 Aceh Marathon • 2018
Merupakan lomba lari perdana berskala Internasional dengan kategori Half dan Full marathon di Aceh. Rute berlari sejauh 42,195K mengelilingi pulau Weh, yang akan mengekspose pelari dengan keindahan pulau ini. Aceh Marathon 2018 akan di adakan di pulau weh Sabang (Aceh) dengan mengangkat tema
Everyhing Start From Zero
di mana pulau weh merupakan titik Nol Kilo Meter dari Negara Idonesia
Keindahan Alam Kota Sabang memang belum banyak orang yang tahu. Kota titik 0 KM Indonesia dengan pemandangan laut dan pulau yang indah serta Provinsi yang memiliki kuliner khas, perpaduan yang cocok untuk dijadikan sebagai tempat destinasi wisata.
Aceh, tanah kaya Budaya, Pariwisata dan tempat yang indah, kesantunan dan kehangatan warga Serambi dalam harmoni alam dan religi, menjadi destinasi baru yang akan tak terlupakan keindahannya.
The natural beauty of Sabang Island will hosting your journey to Aceh Marathon 2018. The beaches are sourunded by the massive hardwood trees, for nature lover is a dream destination. Book your ticket, and enjoy Sabang.
LariKu.info/aceh18
Aceh Marathon


•

29 Juli 2018