Group
15.8K • Fun/Trail Run
EG.1330m+ • COT∙10h:0m
ITRA.1 • UTMB.20K
Around 1500 Slots!
Early Bird IDR.400rb! ends 31 Des 2022
Reg. Fee IDR.600rb
Online 🎫 bit.ly/ala2trail
Reg. ends 12 Feb 2023
EO
SUTRA – Sentul Ultra Trail Running Academy
etc
Open for Public! min. 18 yo. on race day, & in good health.
Runner has min. experience finishing 5K/10K race.
The Entry Fee is not refundable.
If runner can't join because of Covid19, runner will have a 100% refund.
Organizer reserve exclusive rights to approve/deny registration, including the right to award dispensation (with careful consideration) for those that do not meet the qualification criterias.
Ala Ala Trail • 2023
Ala Ala Trail is an anual trail running race at Sentul highland area, Bogor district, West Java. And this event category is designed special for "new entry level runners in trail running area". The race will be departed and finish at Leuwi Pangaduan, Bojong Koneng Village, Babakan Madang, Bogor – West Java.
In this year, this race only has one distance category, 15.8 km, with ±1330m elevatin gain, and 10 Hours Cut Off Time. Race category are race challenge, non championship race, SEMI AUTONOMY race. However Ala Ala Trail 2023 still has ITRA Endurance Point 1 and UTMB 20K Qualifier.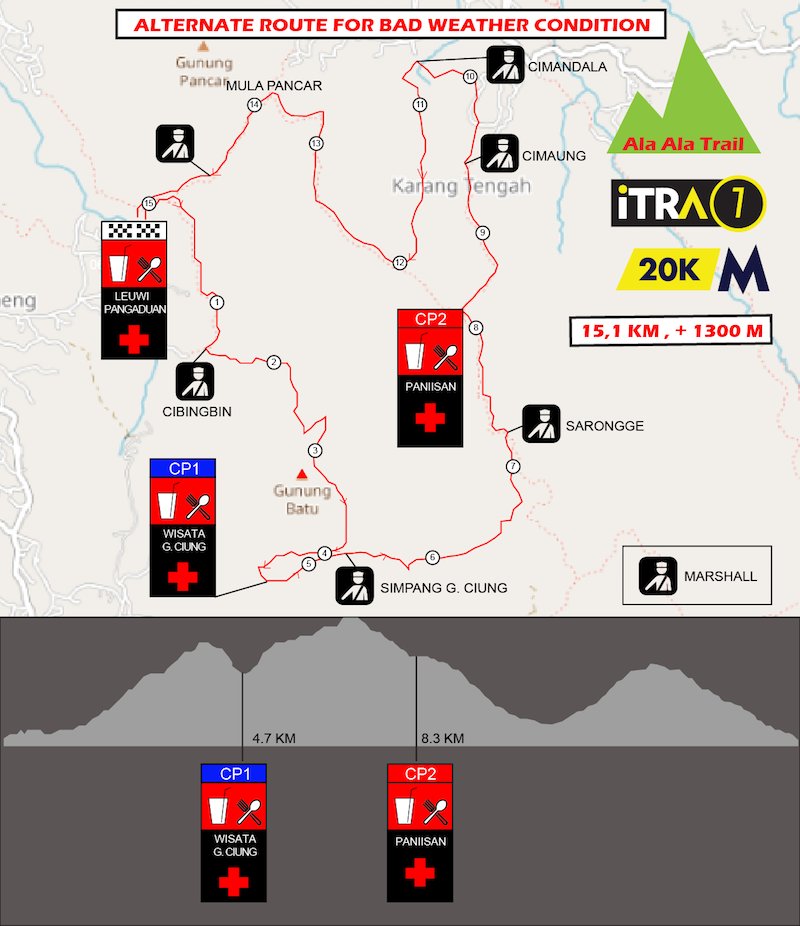 LariKu.info/AAT23

Ala Ala Trail


•

18 Maret 2023
IG. #AlaAlaTrail