---
Group
Vertical/Trail Run
Start. Batur Geopark Museum – Finish. Resto Apung Kintamani
BUT80 ∙ 82K • ITRA.4
EGL.+4610m/-4930m • COT.28h:0m
IDR.1000/1250rb ∙ USD.$80/90

BUT50 ∙ 55K • ITRA.3
EGL.+3320m/-3540m • COT.20h:0m
IDR.800/1000rb ∙ USD.$60/70
Start/Finish. Resto Apung Kintamani
BUT33 ∙ 34K • ITRA.2
EGL.+2310m/-2310m • COT.12h:0m
IDR.600/700rb ∙ USD.$40/50

BUT22 ∙ 22K • ITRA.1
EGL.+1340m/-1340m • COT.7h:0m
IDR.500/600rb ∙ USD.$35/45

BUT11 ∙ 12K • ITRA.-
EGL.+420m/-420m • COT.4h:0m
IDR.400/500rb ∙ USD.$30/40

Early Bird ends 26 Jan 2020
Info
info@baliultratrail.com
+628128920970
RPC
Event Tee • Bib • Geopark Permit • Finisher Medals • Hydration + Refreshment • e-Certificate
Etc
You need to submit a medical form to register. Download the medical form , print it out, fill it out completely, scan/take a clear picture and email your form to info@baliultratrail.com by 15 May 2020 at the latest. And keep the original physical printed copy and hand it to us during race pack collection.
Available Shuttle Bus from Airport to Kintamani (Race Village), vice versa.
Qualification
BUT80 : Complete Trail Race 50K @ 2017-2019
BUT50 : Complete Trail Race 30K / Road Race 42K @ 2017-2019
BUT33 : Complete Trail/Road Race 21K @ 2017-2019
BUT22/11 : No qualification is required, but consider the nature of terrain and weather.
---
---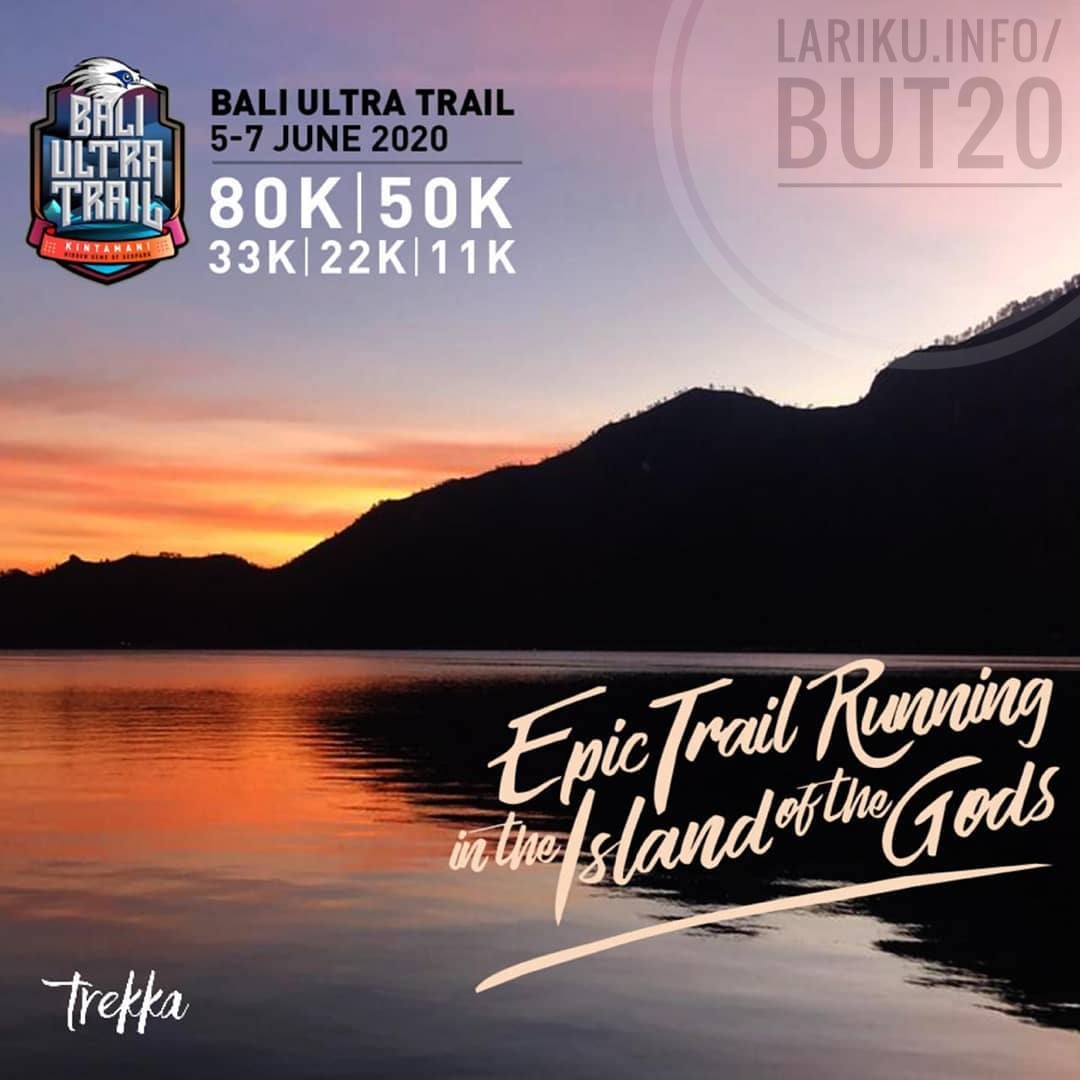 Bali Ultra Trail • 2020
the island of the Gods, Bali, is one of the most renowned tourist destinations in the world. After years of exploring, Trekka discovered the perfect location to hold the most challenging, epic and prestigious trail running event of 2020: ®Bali Ultra Trail 2020. With 80-50 km of ultra-marathon distance and 33-22-11 km of non ultra-marathon, the long distance track brings light to amazing scenic views of UNESCO Batur Global Geopark. Biodiversity, geodiversity and culture united!
The trail stetches through mountains, crater rims, lava boulders, villages, hills and sheds light on scenic views of one of the most beautiful caldera in the world. One for adrenaline junkies, for sure! To be held in Kintamani, Bali, the amazing views of mountains, lakes, forests, villages, hot springs and the friendliness of local residents will shape an unforgettable experience! Join us for the inaugural edition of Bali Ultra Trail in June 2020. The course is beyond challenging, with challenging cut-off times, but it's certainly worthwhile! All will pay off in the end with a beautiful medal at the finish line.
LariKu.info/BUT20

Bali Ultra Trail


•

06-07 Juni 2020
substitute
BUT Virtual Running!


•

06-13 Juni 2020
upcoming
Bali Ultra Trail


•

12-13 Juni 2021
IG. #BaliUltraTrail