Venue
Bebas / Anywhere (GPS Base)
Group
Charity/Virtual Event
10K • Running
50K • Cycling
–
Link pendaftaran tersedia di pop-up banner 🎟
Aplikasi MyBluebird
Info Reg. App. 🎫 Cause ID :
Bluebird Run & Ride ~ Google Play
Reg. ends 16 Juni 2022
Info
Cause ID @ 09.00 – 18.00 WIB
RPC
💳 e-Bib 🎗️
Twibbon
🛡️ e-Badge 📜 e-Certificate 🎁 Doorprize
etc
Terbuka untuk Umum.
Aktivitas dilakukan secara outdoor (bukan statis) selama periode lomba berlangsung.
Pengguna Garmin, Strava atau Suunto, bisa menghubungkan dengan aplikasi Cause agar tercatat otomatis.
Multiple Activity/Submit on 17-26 Juni 2022.
Validasi data pada 27 Juni – 03 Juli 2022.
Pengumuman Pemenang pada 11 Juli 2022.
Hadiah/Racepack dikirim ± 1 bulan setelah acara berakhir.
Bluebird Run & Ride • 2022
Buat setiap kilometermu berarti bersama Bluebird Group! Rayakan HUT ke-50 Bluebird Group dengan tema "50 Tahun Bluebird Group: Setiap Kilometer Berarti" dalam acara "Bluebird Run & Ride 2022". Bluebird Run & Ride 2022 adalah acara olahraga virtual pertama dari Bluebird, yang diadakan sebagai bentuk ajakan untuk mengubah setiap kilometer yang kita tempuh menjadi berarti bagi kelestarian Bumi, dengan target donasi senilai Rp 50.000.000.
Sejak awal berdiri, nilai utama dari layanan Bluebird Group adalah untuk membawa kebahagiaan, sesuai filosofi dari 'Sang Burung Biru: The Bird of Happiness, bukan hanya untuk keluarga besar Bluebird Group, tetapi juga untuk masyarakat dan lingkungan. Kegiatan Bluebird Run & Ride ini menjadi implementasi pilar BlueSky dan BlueLife untuk mendukung pola hidup sehat di masyarakat dengan berolahraga, selain itu juga untuk memberikan kontribusi terhadap lingkungan. Selain itu, kamu-kamu bisa berkesempatanan memenangkan banyak hadiah spesial dengan mengikuti berbagai kontes yang menantang! Yuk ubah setiap langkahmu menjadi langkah yang berarti bagi Bumi kita ini!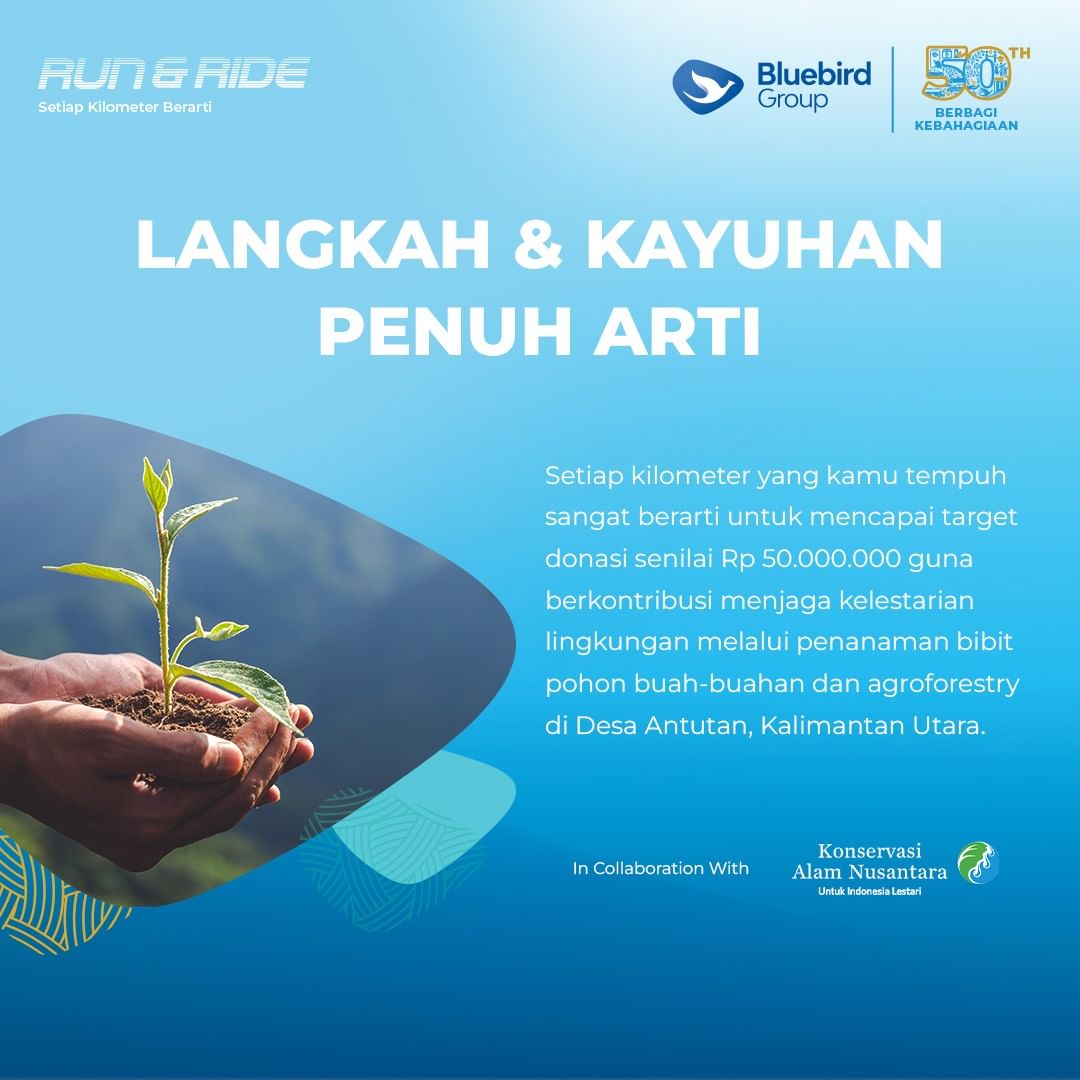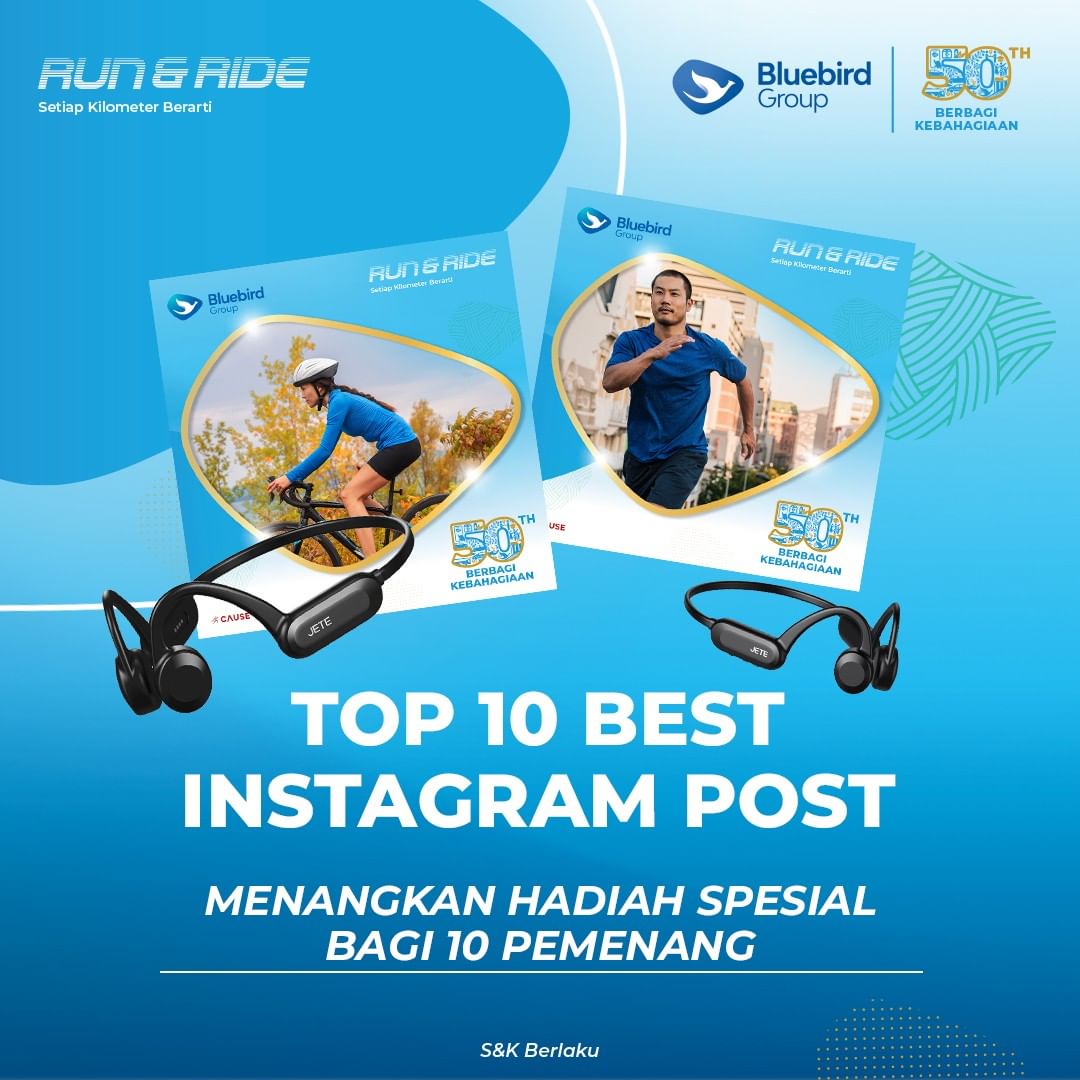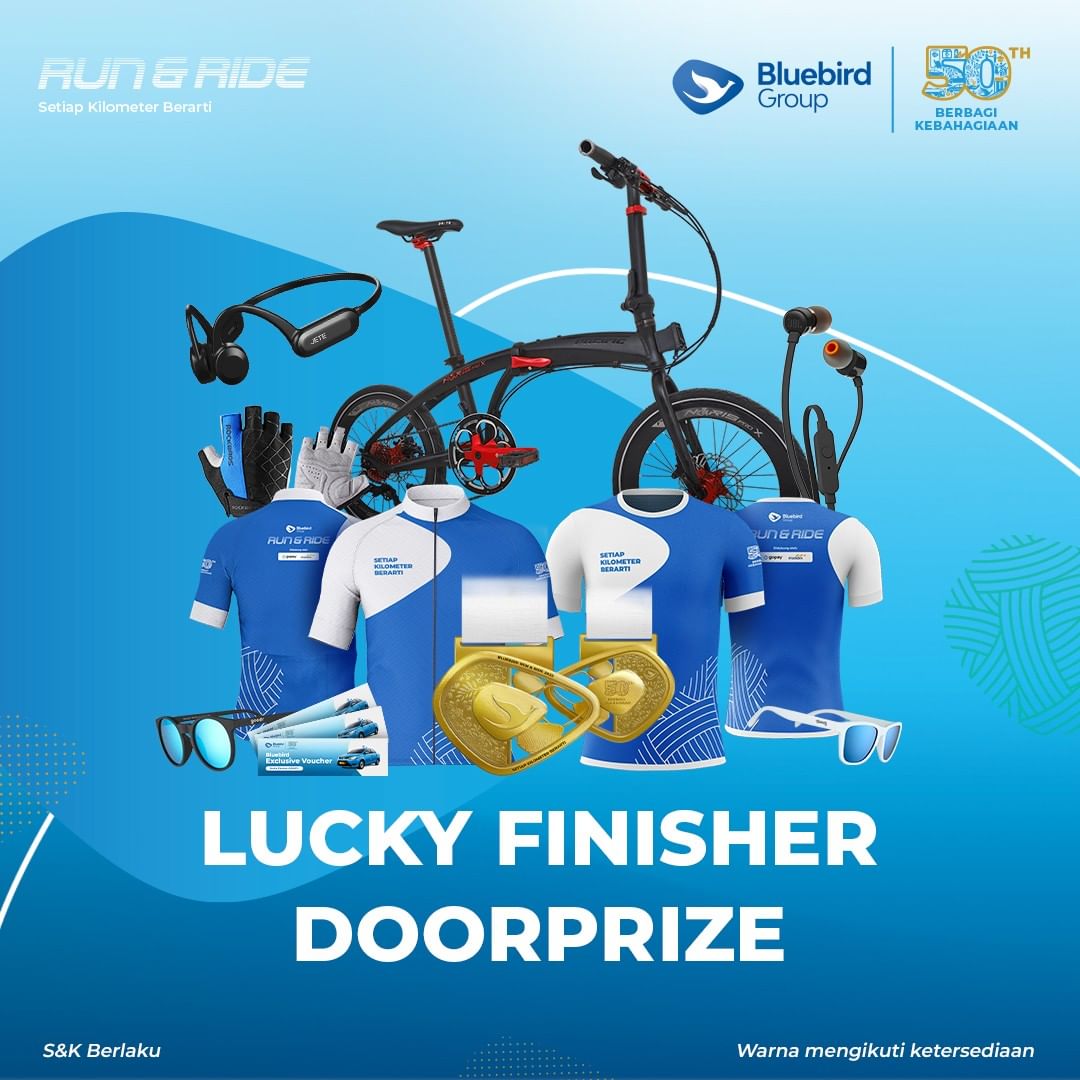 // myAutoSlides - every 2.5 seconds ⏳ ?>
LariKu.info/BRR22

Bluebird Run & Ride


•

17-26 Juni 2022
IG. #BluebirdRunRide