Group
Beach/Trail Run
Open / Master 40+
13K • COT.4h:30m •
EG.247m • IDR.300/400rb
25K • COT.6h:0m •
EG.668m • IDR.400/500rb
50K • COT.12h:30m •
EG.1638m • IDR.500/600rb • ITRA.2
70K • COT.15h:30m •
EG.2389m • IDR.650/750rb • ITRA.3
100K • COT.22h:30m •
EG.3270m • IDR.850/950rb • ITRA.4
Early Bird !
Limited Slots
Info
WA/Telegram: +6281229369630
coasttocoast.try@gmail.com
RPC
Jersey • Bib • Finisher Medals • Finisher Jersey for 50K/70K/100K • Refreshment • Insurance
@ 13-15 February 2020
Prize
for 1st, 2nd & 3rd winner each Category @ male, female & master
EO
TRY – Trail Runners Yogyakarta
etc
Qualification : There are no specific experience requirements, but participants are expected to be physically and mentally prepared, and bring equipment according to regulations.
13K : Finish 5K Road Run
25K : Finish 10K Road Run / Have Climbed Mountain Before
50K : Finish 42K Road Run / 13K Trail Run
70K : Finish 42K Road Run twice / 25K Trail Run
100K : Finish 42K Road Run three times / 50K Trail Run
–
Drop Bag only for 102K & 70K runners
Shuttle Pick Up Point : Museum Perjuangan Yogyakarta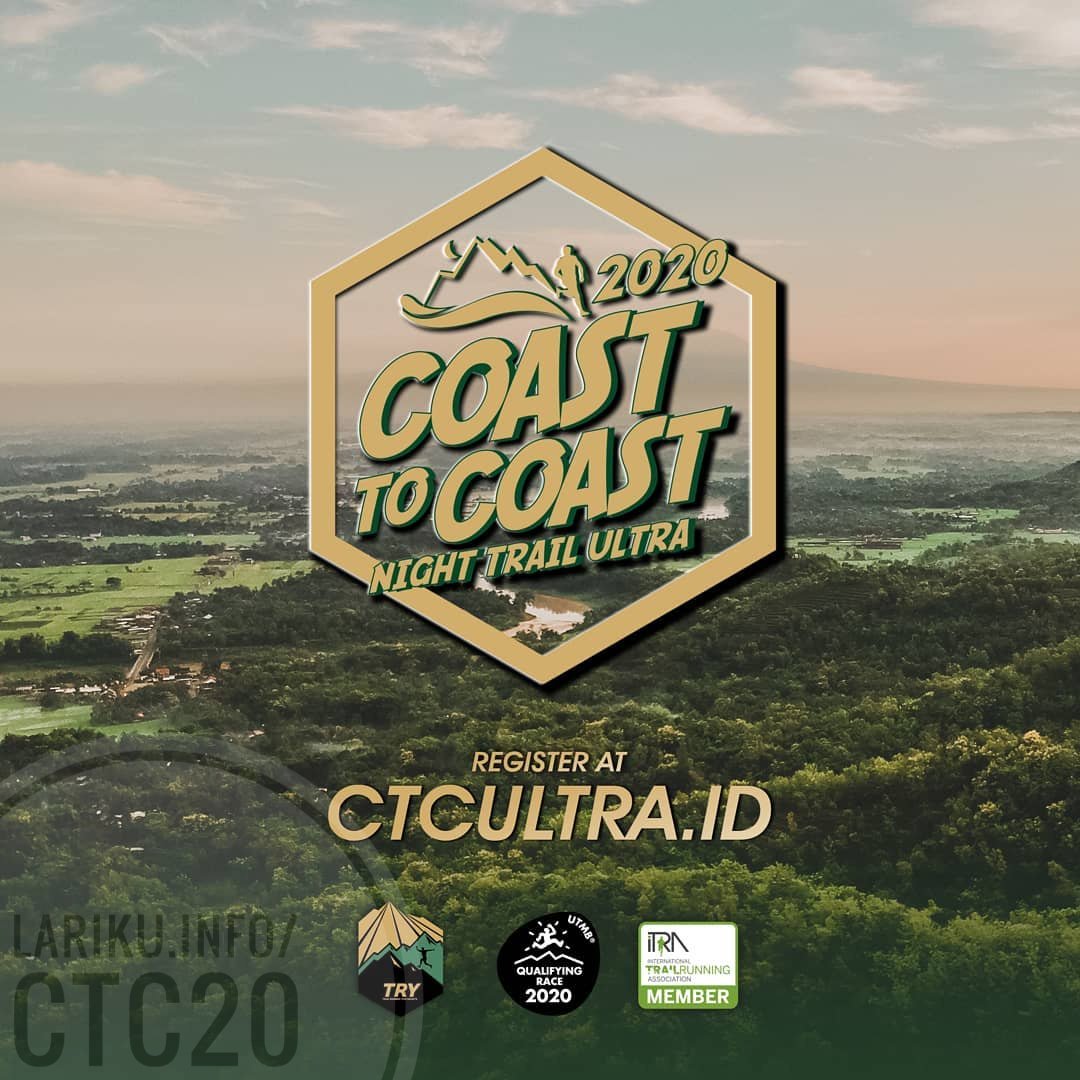 Coast to Coast Night Trail Ultra • 2020
CTC Ultra merupakan lomba lari lintas alam dari pantai menuju pantai. Event ini disebut sebagai event gathering pecinta lari seluruh Indonesia yang di-organisir oleh Trail Runners Yogyakarta. Dan tahun ini terdapat 5 kategori, dimana 3 diantaranya masuk sebagai UTMB Qualifier.
Coast to Coast Night Trail Ultra (CTC) is held every February since 2015. Starting line starts at Depok Beach, Yogyakarta then along Parangkusumo and Parangtritis Beach, then crossing beautiful hills. After passing a lot of climbs and descent, also after you made it through the Parangkusumo Sand Dune which is the only mini desert in Southeast Asia, you will enjoy grilled fish along with other runners after crossing the finish line. In February 2019 the CTC Ultra was held again with a total of 1230 participants from 15 different countries with the 13K, 25K, 50K, 70K categories. This year, the Coast to Coast Night Trail Ultra not only tests physical and mental challenges, but will also give a family impression that is hard to forget. For that in 2020, CTC added another category, 100K.
// myAutoSlides ?>
LariKu.info/CTC20

Coast to Coast Night Trail Ultra


•

15-16 Februari 2020