Group
100K • Elev.10000m • COT:40Hours
75K • Elev.7500m • COT:28Hours
50K • Elev.5000m • COT:18Hours
25K • Elev.2500m • COT:9Hours
•• Trail Run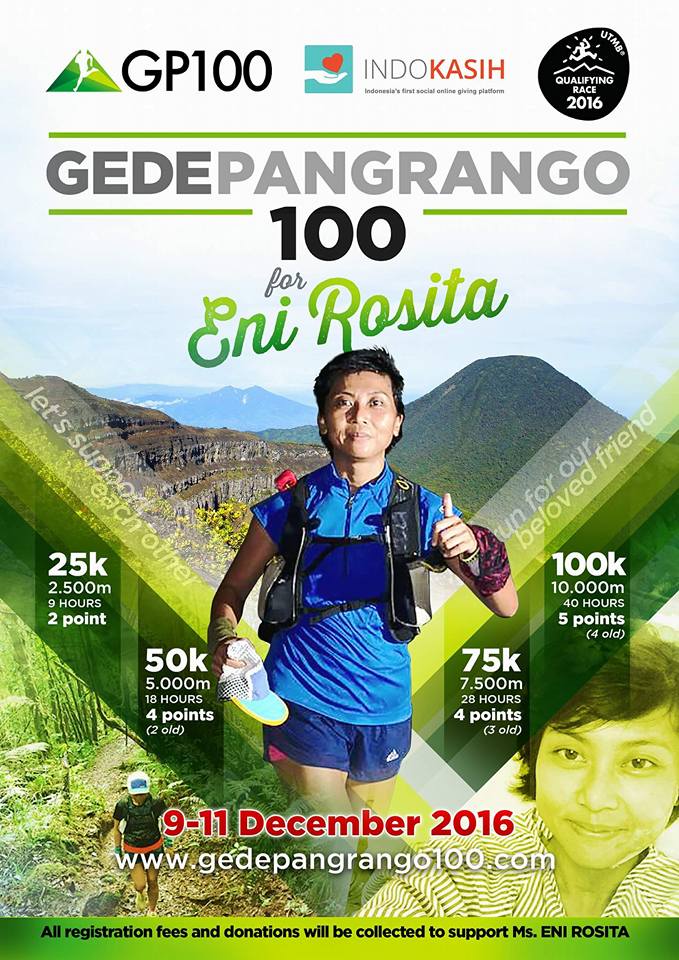 Gede Pangrango 100 • 2016
Run for Our Beloved Friend, ENI ROSITA
GP100 adalah race gratis, support oleh peserta sendiri, diselenggarakan oleh komunitas. Race yang menantang di akhir tahun, dengan poin UTMB sebagai penyemangat.
Tahun lalu, kami menghimbau donasi dari peserta, dan kontribusi mereka telah membantu pelari trail Aris Sopiandi mengikuti lomba ultra bergengsi UTMB.
Tahun ini, sedikit berbeda. Seperti yang kita ketahui, beberapa waktu lalu teman pelari trail kita, Eni Rosita, mengalami kecelakaan yang sangat mengejutkan, disiram air keras, yang memerlukan penyembuhan berbulan-bulan. Saat ini Eni sedang menjalani beberapa tahapan operasi dan dirawat di Rumah Sakit Siloam Karawaci. Doa kami selalu bersamanya, dan semoga Eni segera pulih, kami tahu Eni adalah wanita yang kuat.
Di saat seperti ini, mari bersama-sama memberikan support kita. Kami telah menyiapkan halaman donasi di Indokasih, yang terbuka baik untuk peserta GP100 2016 maupun untuk umum.
Silakan langsung diberikan melalui
indoKasih.com/appeal/GP100
Run for Our Beloved Friend, ENI ROSITA
GP100 is a free event, self-supported, community organized race, a great end of year challenge, with UTMB points to be earned.
Last year, we encourage donation from participants, and their generous contribution had helped sending Aris Sopiandi to the big UTMB race. This year we are doing it differently.
As we all know, our fellow trail runner, Eni Rosita, was met with a shocking incident that left her with trauma that will take months to recover. She's currently undergoing a few rounds of surgery and treatment at Siloam Hospital in Karawaci, Tangerang. Our thoughts are always with her, and here's wishing her a speedy recovery, and be back on her feet soon, strong woman that she is.
Let's get together again and show our support to Eni Rosita. We have setup a page at Indokasih for both 2016 GP100 participants and friends to make donation.
You can do so at
indoKasih.com/appeal/GP100
LariKu.info/gede-pangrango-100-2016
Gede Pangrango 100 •
LariKu.info/gede-pangrango-100-2016 Gede Pangrango 100


•

09-11 December 2016