Group
5K • IDR.275rb
10K • IDR.225rb
• Road Run
Early Bird Until 15 Oktober 2016
Normal Price Until 30 November 2016
Online.
goo.gl/DJ6YzX
RPC
9-10 Desember 2016 @ 10.00-18.00 WITA •
etc
Tersedia Shuttle Bus & Yoga Class sesuai pesanan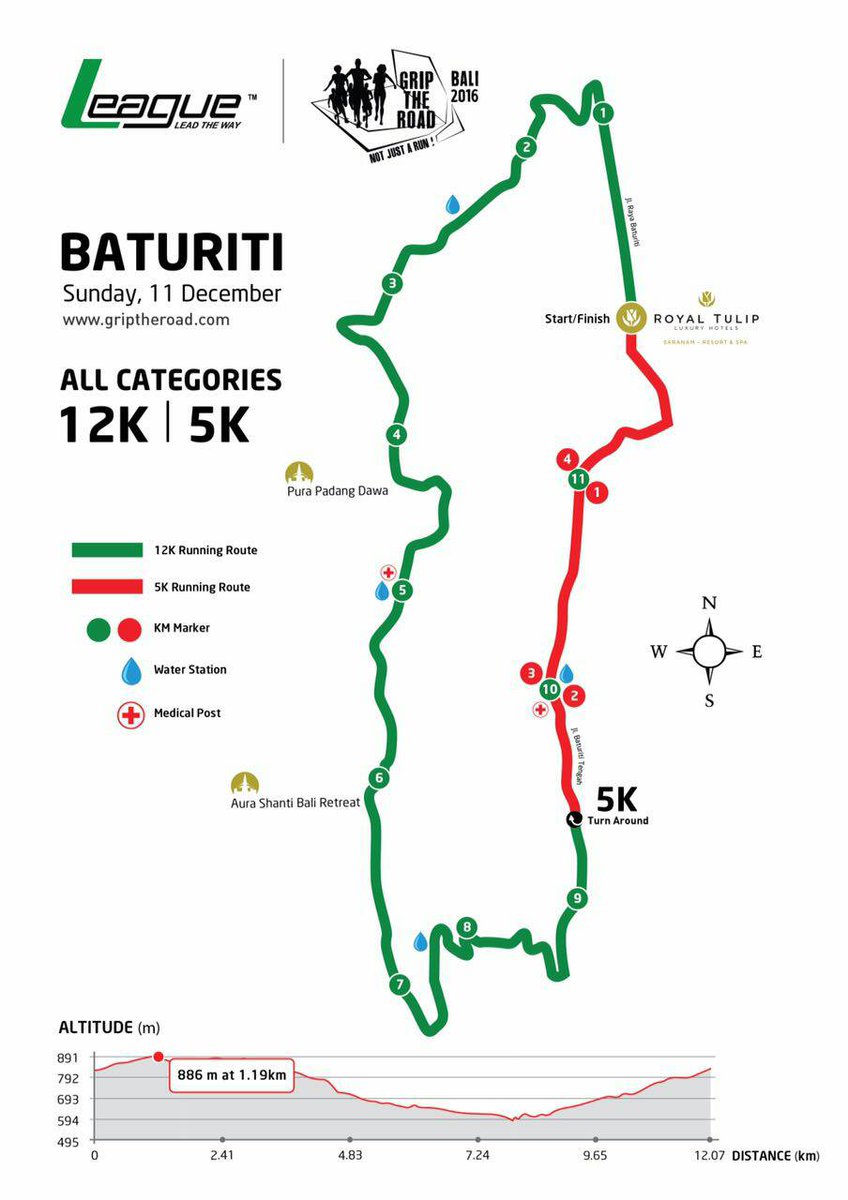 Grip The Road Bali • 2016
Setelah sukses menggelar Grip The Road di Jakarta & Surabaya, League kembali menyasar Pulau Dewata sebagai penyelenggaraan Grip The Road dipenutupan tahun 2016. Mengapa Bali? Pulau Dewata ini tercatat memiliki alam yang menawan sekaligus menantang yang selaras dengan konsep "Challenging Track".
Di penghujung 2016 ini, Perbukitan Baturiti dipilih menjadi destinasi Grip The Road 2016, dengan karakteristik track yang sulit ditaklukan, jalan berliku, tanjakan dan turunan yang curam, dipagari pemandangan alam Baturiti yang menakjubkan, tentu ini menjadi "value added" bagi para peserta yang mengikuti running event yang diselenggarakan oleh League. Tak hanya ditantang oleh sajian "Challenging Track" dalam Grip The Road, peserta juga disuguhkan dengan aktifitas Yoga yang di pandu oleh trainer professional.
Faktor keamanan serta kenyamanan saat berlari juga menjadi fokus League dalam menyelenggarakan event lari. Untuk memastikan hal tersebut, League bekerjasama dengan berbagai pihak untuk menjamin keamanan serta kenyamanan berlari para pelari di event lari League ini. Dan tentunya, seluruh internal staf League turut serta turun ke lapangan untuk membantu para pelari mencapai hasil yang maksimal saat berlari. Bagi pelari yang terdaftar akan menerima 'Running Tee Quick Dry' dengan fitting dibuat sesuai kategori pria maupun wanita untuk meningkatkan kenyamanan berlari. Para pelari juga akan menerima 'Finisher Medal' dengan kualitas terbaik dari League dalam merayakan semangat akan race
LariKu.info/grip-the-road-bali-2016 Grip The Road Bali


•

11 December 2016