Group
Single • US$. 270/290/325/337
Team • US$. 315/335/375/398
Swim 1.9K Bike 90K Run 21.1K • Triathlon
IronKids • US$ .. • 1.5K • Road Run
Very Early Bird Entry Until 28 Aug 2016
Early Bird Entry • 12 Oct – 9 Nov 2016
Normal Entry • 10 Nov 2016 – 12 Jul 2017
Extended Entry •13 Jul – 2 Aug 2017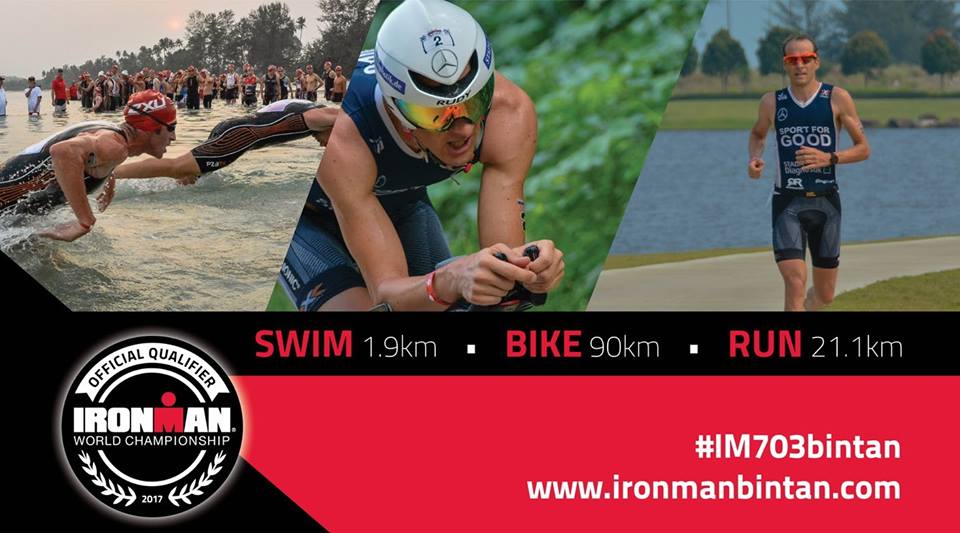 Ironman 70.3 Bintan • 2017
Bintan is an ultimate triathlon destination, with perfect swimming conditions and a high quality road network snaking through this tropical paradise. The course is designed to offer both a fast and furious competition and a feast for the senses.
Bintan is Singapore's favourite tropical escape only 50 minutes by ferry from the vibrant city.
Starting from a pearl-white sandy beach, the swim takes place in flat crystal-clear waters, followed by a bike journey among lush green tropical forests, red earth rolling hills and a very cheerful crowd of local villagers and school kids. The 3-lap run course around the Lagoi Bay lake offers plenty of cheering opportunities for families and friends.
LariKu.info/ironman-70-3-bintan-2017 Ironman 70.3 Bintan


•

20 Agustus 2017