Venue
Bebas / Anywhere (GPS Base)
Group
Multiple/Virtual Activity
6.2K • Running
PJT I. 100 Slots ∙ Umum. 150 Slots
31K • Cycling
PJT I. 100 Slots ∙ Umum. 150 Slots
RPC
🏅 200 Finisher Medals @ 50 Medal each Category 🎁 Doorprize
Prize
10 Finisher Run & Ride – @ 5 finisher terbaik mendapat Voucher GoPay/OVO
etc
Peserta menggunakan Aplikasi
Strava
.
Peserta hanya bisa mengikuti satu kategori.
Panitia akan mengirim email max. H+2 setelah pendaftaran.
Kategori Riding boleh menggunakan jenis sepeda apapun, kecuali Electric Bike / Sepeda Listrik.
Finisher terbaik dipilih berdasarkan jarak total terjauh selama periode race. Jika terdapat jarak yang sama, maka diambil finisher tercepat untuk kategori virtual run dan elevation gain tertinggi untuk kategori virtual ride.
Submit foto terbaik Anda selama mengikuti virtual race ini untuk memenangkan best photo, best caption, dan most like.
Pengumuman Pemenang 26 Februari 2021.
Pengiriman dilakukan ± 2 bulan dari pengumuman.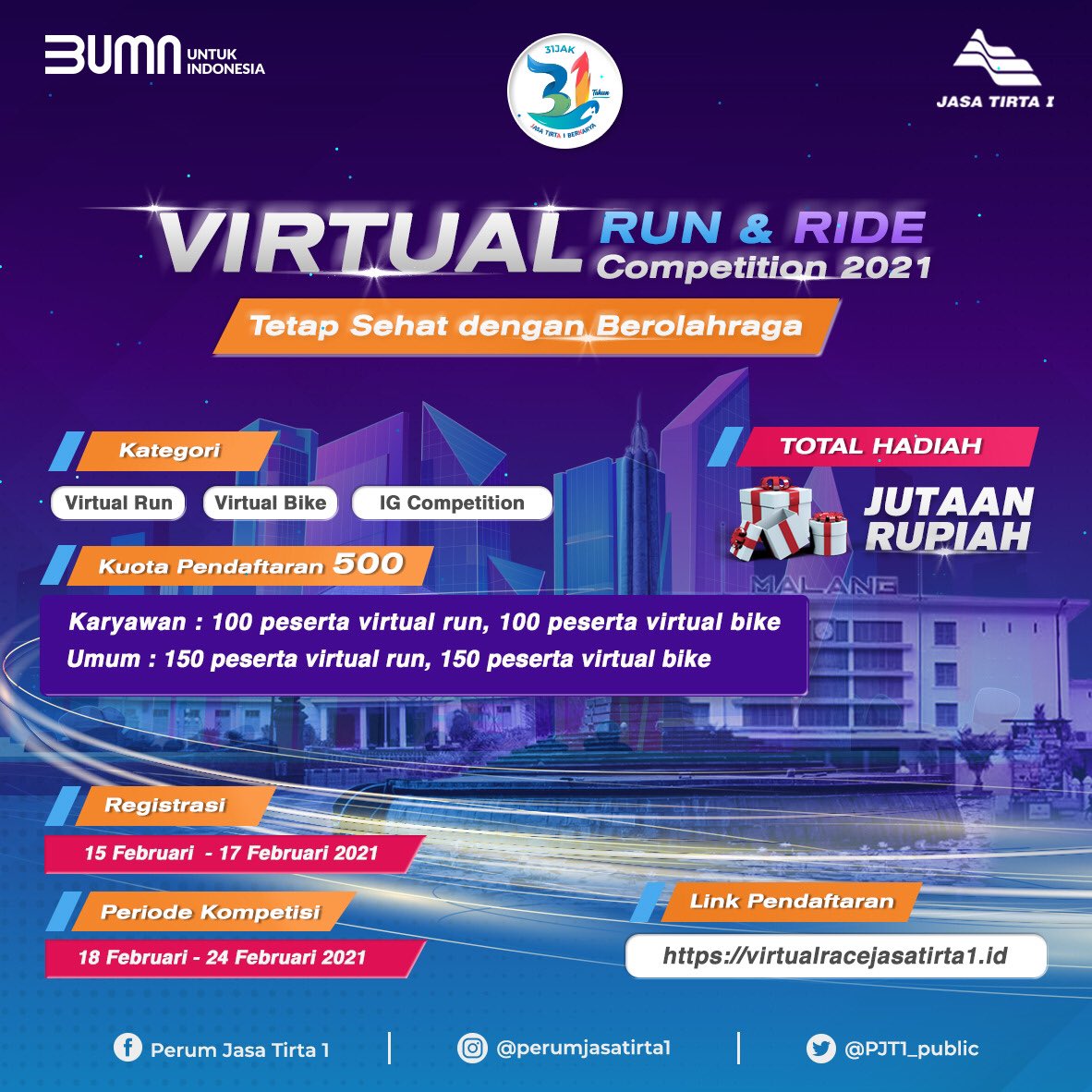 Jasa Tirta I Virtual Race • 2021
Ayo Ramaikan Virtual Run and Ride Competition 2021 Buat kamu-kamu yang tetep pengen sehat di masa pandemi sekaligus punya peluang dapet hadiah menarik, ayo ikutan gabung di event Virtual Run and Ride 2021.
Dengan mengusung tema "Tetap Sehat dengan Berolahraga" Perum Jasa Tirta I menyelenggarakan kegiatan Virtual Run dan Virtual Ride dalam rangka memeriahkan HUT Perum Jasa Tirta I ke-31. Kamu tim lari atau tim sepeda niy? Jangan lupa ikutan ya, hadiahnya keren abisss…
Jangan lupa catat tanggalnya karena hadiah jutaan rupiah menantimu.
LariKu.info/PJT21

Jasa Tirta I Virtual Race


•

18-24 Februari 2021