When
03 Desember 2017 re-scheduled 28 January 2018
Group
5K • IDR.150/350rb •
10K • IDR.250/450rb •
21K • IDR.400/650rb •
42K Single • IDR.500/750rb •
42K Ekiden • IDR.1,8/2jt • (4 org)
• Road Run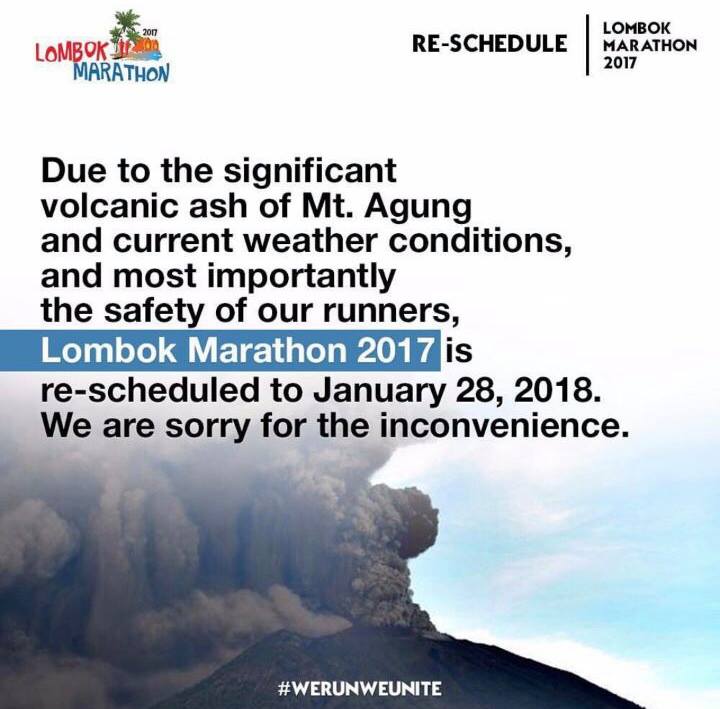 Due to the significant volcanic ash of Mt. Agung and current weather conditions, and most importantly the safety of the runners,
Lombok Marathon 2017
is re-scheduled to
January 28, 2018
---
Dikarenakan erupsi Gunung Agung yang mengakibatkan kemungkinan penutupan kembali Bandara Internasional Lombok & Bandara Internasional Ngurah Rai, Bali, dengan ini diberitahukan bahwa tanggal lomba Lombok Maraton 2017 akan dijadwalkan ulang pada hari Minggu, 28 Januari 2018. Due to the eruption of Mount Agung and the subsequent potential of re-closing of Lombok International Airport, Lombok & Ngurah Rai Interntional Airport, Bali, they hereby announce the rescheduling of 2017 Lombok Marathon to Sunday, January 28, 2018. Untuk informasi lebih lanjut, silakan email ke For further information please email to • info@lombokmarathon
---
Lombok Marathon • 2017
The inaugural Lombok Marathon 2016 had tremendous feedback and succesfully arranged on December 4th. It become one of the race that will be a choice for runners around the globe. It takes place on a scenic, point-to-point course. It starts on the west lombok, Jl Senggigi and end at of Jl. Pejanggik Mataram City at the Governor building with live traditional music motivating you to cross the finish line. The event also includes a pre-race dinner, top-notch expo, and post-race festival complete with live music and a food festival. Again, next year on December 3rd, 2017 we will look more than 6,000-participant limit, so register early to ensure a spot.
LariKu.info/lombok17 [countdown event="Lombok Marathon • 28 January 2018″ date="28 January 2018″]