Venue
Carpark – fX Sudirman, Jakarta Selatan, DKI Jakarta
Group
3.5 • Charity/Thematic/Backward/Road Run
EarlyBird IDR.100rb until 31 August 2016 • NormalPrice IDR.150rn until 16 September 2016
Online: retrorun∙co∙id , Go-Tix (only for mobile user) or RetroRun Booth: fX Sudirman (7-16 September 2016)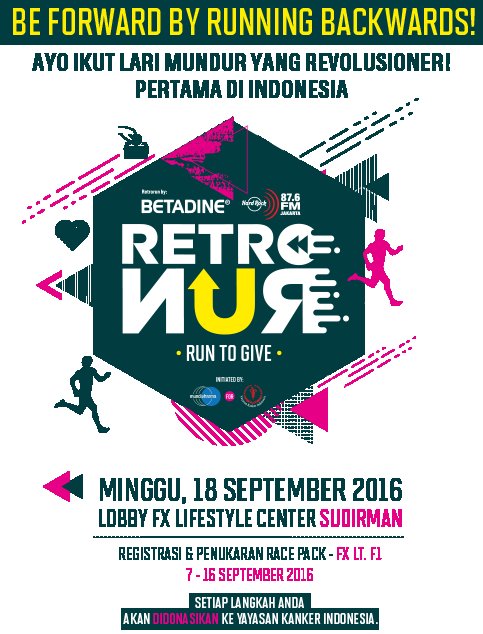 RetroRun ~ 2016
Lari itu selalu maju, bayangin kalau larinya mundur, ke era 70s, 80s dan 90s? Kaya mesin waktu. Can it be real?
Betadine (Mundipharma) & Hard Rock FM mempersembahkan RETRO RUN 2016! Ini adalah aksi charity run untuk Yayasan Kanker Indonesia.
Bayangin 1000 pelari akan bergabung di sini, melakukan aksi lari mundur dengan atribut retro ala tahun 70an, 80an dan 90an! Would you be one of them?
Guest Star : Kunto Aji
MC : Dilla Agnesia & Rian Ibram (Penyiar HardRock FM)
#iRun4Charity #RetroRun4Charity
When people are doing good, it is unstoppable, it is unbreakable.
LariKu.info/retrorun-2016 RetroRun


•

18 September 2016