Venue
Bebas / Anywhere (GPS Base)
Group
Charity/Virtual Activity
10K/20K/42K • Running
20K/40K/60K • Gowes
6/12/24 Hours • Badminton
Promo Buy 1 Get 1 Free!
∙ Promo ends 05 Sep 2020
Beginner. IDR.199rb
∙ RPC + Donasi 50rb
Elite. IDR.399rb
∙ RPC + Donasi 250rb
Pro. IDR.999rb
∙ RPC + Donasi 500rb
Online 🎫 rungowminton∙sedekahbooster∙com
Reg. ends 31 Sep 2020
RPC
🏅 Finisher Medals 📜 e-Certificate 🛍 ToteBag 💌 Donasi 🎁 Merchandise –
Beginner : 😷 Masker
Elite : 📔 Book 🥃 Mug
Pro : 👕 Jersey 🍶 Tumbler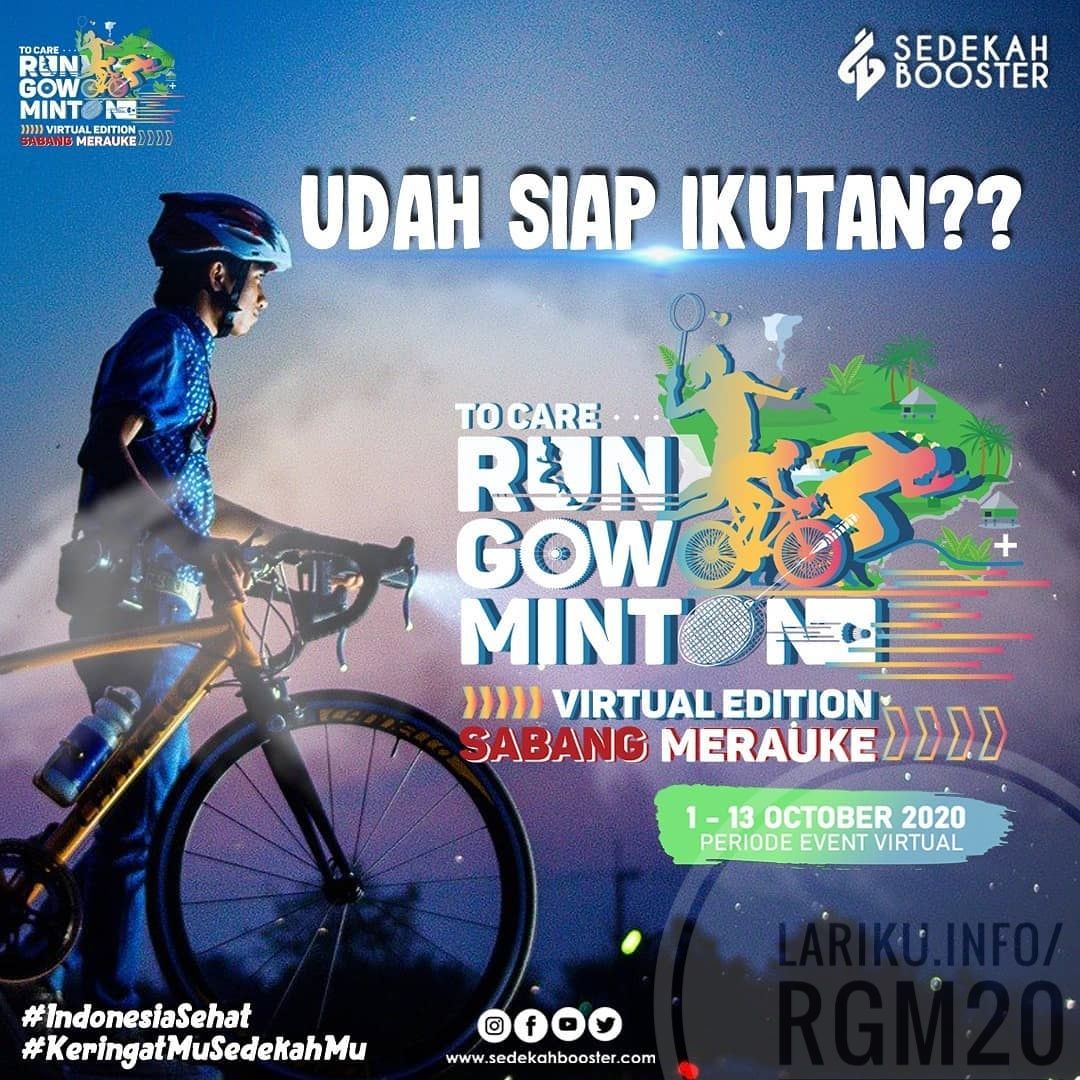 Run Gow Minton to Care • 2020
Akan ada event keren buat kamu-kamu yang ngaku penggemar sepedahan, lari, dan juga badminton. Sedekah Booster akan ngadain event RUN GOW MINTON. RUN GOW MINTON TO CARE merupakan event virtual yang di inisiasi oleh Sedekah Booster. Seluruh dana event ini akan diberikan seluruh nya untuk sedekah.
Event ini bertujuan untuk mendukung Indonesia lebih sehat dan terlindungi dari berbagai penyakit, dan bukan hanya sekedar olahraga biasa, namun meningkatkan rasa kemanusiaan dan menuju Indonesia Baik Hati. Di event keren ini tidak hanya menyalurkan hobi kamu, tetapi juga akan membantu sesama. Dengan mengikuti event ini, kamu-kamu sudah ikut berpartisipasi dalam kepedulian sosial. Karena Keringatmu adalah Sedekahmu.
LariKu.info/RGM20

Run Gow Minton to Care


•

01-13 Oktober 2020
IG. #RunGowMinton