Venue
Sumarecon Mall Serpong , Tangerang , Banten
Group
1.2K • Kids Dash • IDR.200rb
5K • Speed/Obstacles Race • IDR.300rb
10K • Speed/Obstacles Race • IDR.350rb
Until 31 August 2016 • Medals for All Finisher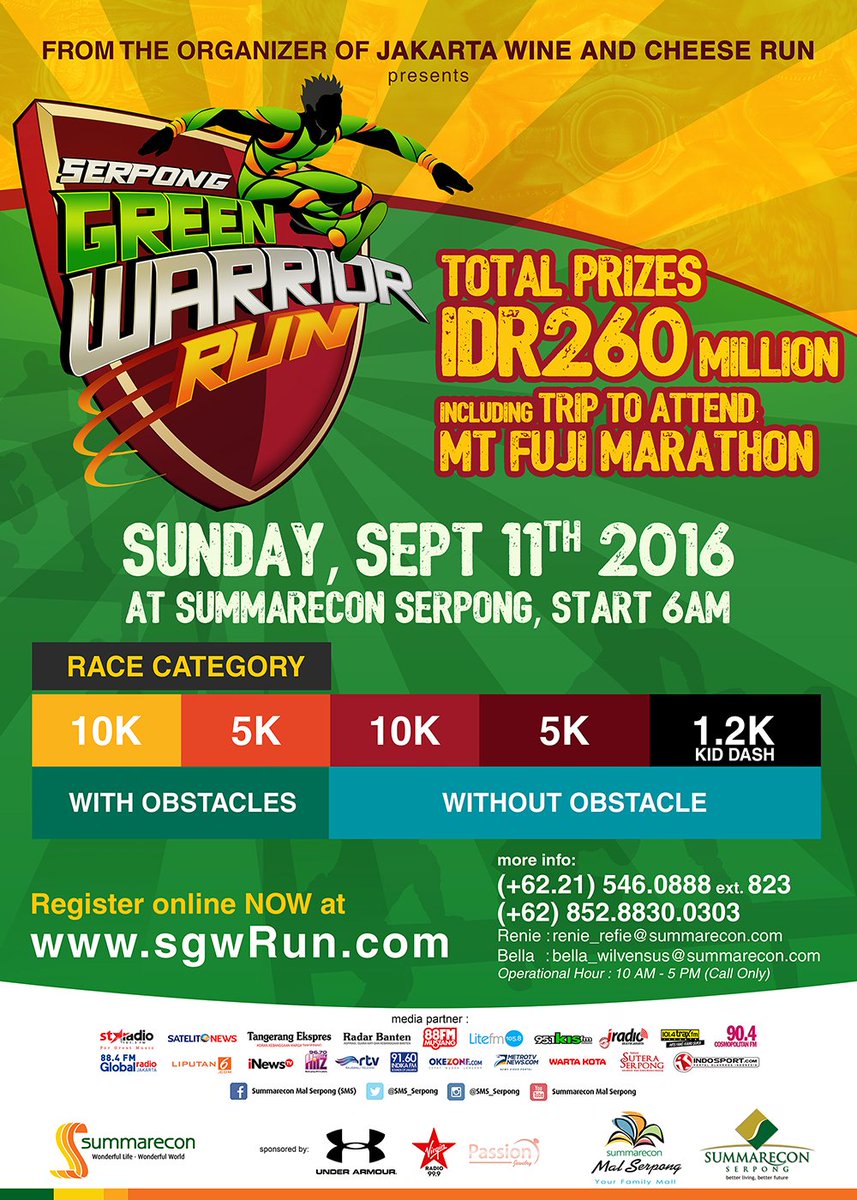 Serpong Green Warrior Run • 2016
Hello Runners! Be ready for The First Obstacles Race in 2016: #SGWR2016 & win trip to Japan to attend Fujisan Marathon and TOTAL PRIZES IDR 260million.
Serpong Green Warrior Run (SGWR) adalah salah satu acara lari yang diadakan oleh Summarecon Mal Serpong yang merupakan bagian dari acara tahunan besar: Festival Kuliner Serpong, hasil kerjasama Summarecon Mal Serpong dengan pengembang terpercaya Summarecon Serpong.
Serpong Green Warrior Run merupakan adaptasi dari Jakarta Wine & Cheese Run yang diadakan oleh Mal Kelapa Gading dan Summarecon Kelapa Gading yang sukses dilaksanakan pada event tahunan Jakarta Fashion & Food Festival. Dengan konsep yang unik, Serpong Green Warrior Run memberikan ambience dan tantangan tersendiri bagi pelari profesional dan penggemar lari di Indonesia dan dunia.
SGWR melibatkan pelari nasional dan pelari berbagai negara. Lomba lari ini merupakan event yang wajib ditunggu karena merupakan ajang lari yang ada di Tangerang memiliki 3 kategori jarak tempuh yakni 10K, 5K, dan 1,2K serta menyuguhkan rintangan lari Obstacle Run. SGWR 2016 akan dilaksanakan pada tanggal 11 September 2016 mulai Pkl. 05.00 s/d 12.00 WIB.
LariKu.info/serpong-green-warrior-run Serpong Green Warrior Run


•

11 September 2016