When
30 Juni 2018 reschedule
19 Agustus 2018 reschedule
10 November 2018
---
Group
•• Charity/Fun/Road Run
5K • COT.1h40m • IDR.170/200rb
10K • COT.2h20m • IDR.213/250rb
21K • COT.3h00m • IDR.298/350rb
•• Fun Bike
5K Bike Tour • IDR.170/200rb
Kids Bike • IDR.85/100rb
• Around 500 Slots
• Early Bird ends 30 Apr 2018
• Normal Price ends 12 Juni 2018
Online.
gg.gg/soekarnorun
Info
+62.813.5149.2150
+62.812.8484.7188
info@soekarnorun.com
RPC
Goodie Bag • Buku Soekarno • T-Shirt • BIB • Finisher Medal
28-29 Juni 2018 @ 12:00-20:00 • Galaxy Mall – Surabaya
Prize
for 1st to 9th winner each Running Category @ male & female
---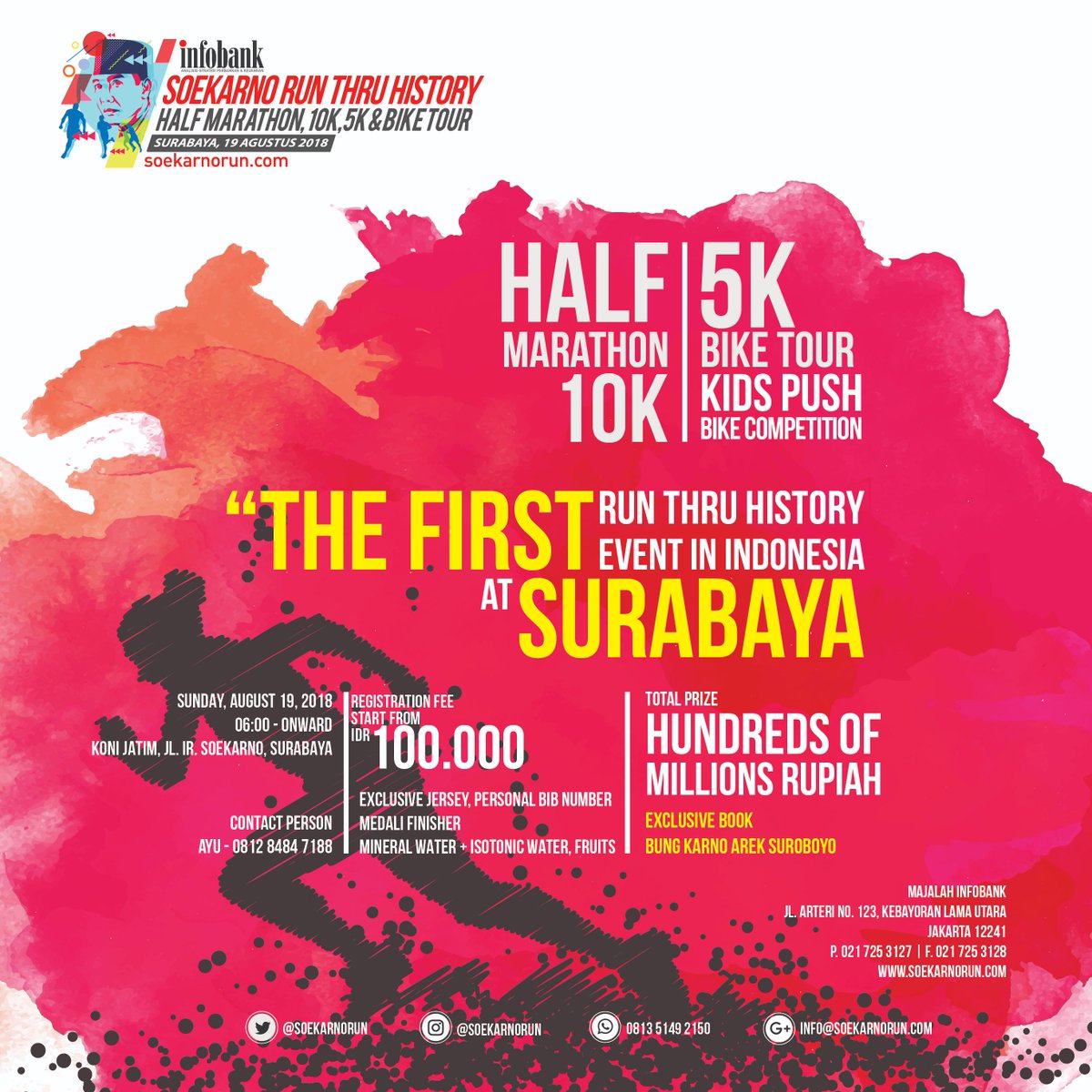 Soekarno Run Thru History • 2018
There are many other Bung Karno traces that can be traced through various documents, as well as the narratives from historical witnesses. However, the fact that there has been a systematic movement of "deconstruction" over the past three decades has resulted in few facts becoming obscure, a straight line being bent, or even a historical blurring of Sukarno himself.
To further explore and actualize Sukarno's teachings for the benefit of the nation and civilization of the world, Yayasan Aku Dan Sukarno (YADS) in cooperation with INFOBANK and GALANESIA will hold SOEKARNO RUN THRU HISTORY – HALF MARATHON, 10K, 5K & BIKE TOUR 2018 on 10 November 2018 on Jl. Ir. Soekarno, Surabaya, East Java
Panitia juga akan mengadakan acara keluarga dan anak-anak berupa Kids Balance Bike Competition sehingga seluruh segmen terfasilitasi.
Dan sebagain dari dana yang diperoleh dari pendaftaran peserta akan disumbangkan untuk penambahan fasilitas di rumah pertama Ir. Soekarno melalui Yayasan Aku dan Sukarno (YADS).
LariKu.info/srun18 Soekarno Run Thru History


•

10 November 2018