Group
6K Family Course • IDR.450rb per Keluarga
10K Short Course • IDR.250rb
17K Night Trail • IDR.350rb
21K Half Marathon Trail • IDR.400rb
42K Marathon Trail • IDR.500rb
••• Mix Road Run / (Night) (Aspal Tanah Paving)
Open Registration 30 September 2017 – 1 Januari 2017 atau quota terpenuhi • Loyalty Discount 10% bagi peserta Tahura Trail Running Race 2016
shuttle dari tempat parkir mobil ke lokasi perlombaan (Pukul 05:00 – 06:30 dan mulai pukul 10:30-15:00)
RPC
Pengambilan paket perlombaan dilakukan di lokasi perlombaan (Plaza Taman Hutan Raya Djuanda) dengan jadwal:
20 Januari 2017 – 13.00-18.00 • untuk seluruh kategori
21 Januari 2017 – 09.00-20.00 • untuk seluruh kategori
22 Januari 2017 – 05.00-06.00 • untuk Kelas Short, Long dan Family
Mengingat banyaknya peserta kami sangat menyarankan pengambilan paket perlombaan dilakukan pada hari Jumat 20 Januari 2017 atau Sabtu 21 Januari 2017. •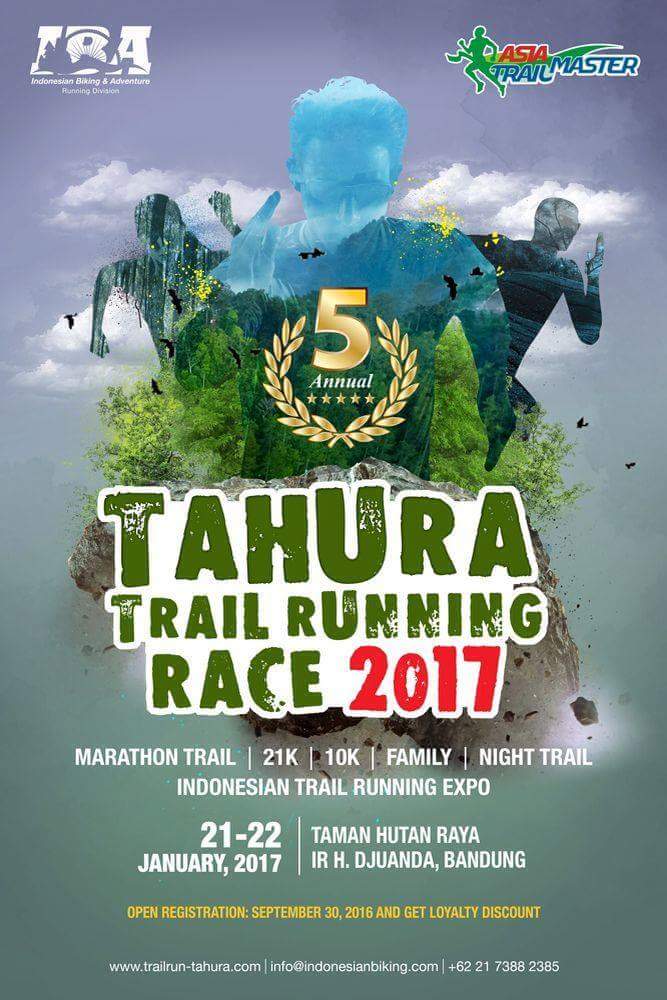 Tahura Trail Running Race • 2017
5th edition of the very popular race in Bandung with a great running course and wonderful atmosphere. On paper the most accessible race in Indonesia for the general public, but do not underestimate the course neither!
Tahura Trail Running Race adalah kompetisi lari lintas alam dimana lokasi atau medan yang menjadi tempat berlangsungnya kompetisi adalah alam terbuka dengan kontur jalan yang tidak rata serta memiliki rintangan alam yang menantang.
Trek yang akan dilewati adalah jalan umum berupa aspal, jalan berbatu, jalan tanah/lumpur, kampung dan paving blok dengan jarak tempuh lomba adalah Short +-10Km, Half Marathon Trail, Marathon trail, kategori Family +-6km dan Night Trail Run.
Selain kontur jalan yang tidak rata baik menanjak dan menurun, kompetisi ini diselenggarakan di alam terbuka dengan perubahan cuaca yang harus diantisipasi oleh setiap peserta seperti dingin, hujan dan panas.
Berbeda dengan kompetisi lari jalan raya yang sudah umum diselenggarakan, trail running menuntut para peserta untuk memiliki semangat serta stamina yang tinggi agar dapat melewati setiap tantangan yang terdapat didalam medan kompetisi.
LariKu.info/tahura-trail-running-2017 Tahura Trail Running Race


•

22 Januari 2017