When
24 September 2016 @ 16:00 WITa
Where
Lapangan Timur Monumen Bajra Sandhi Renon – Denpasar – Bali
Group
• Night/Glow/Road Run
EarlyBird • IDR.100rb Until 06 September 2016
NormalPrice • IDR.150rb
RPC
Only for 100 First Finisher
The race pack collection will be on 10-11 September 2016 at DSJ from 10am until 4pm. Please make sure that you bring the ID card used during registration and a print out of the registration email.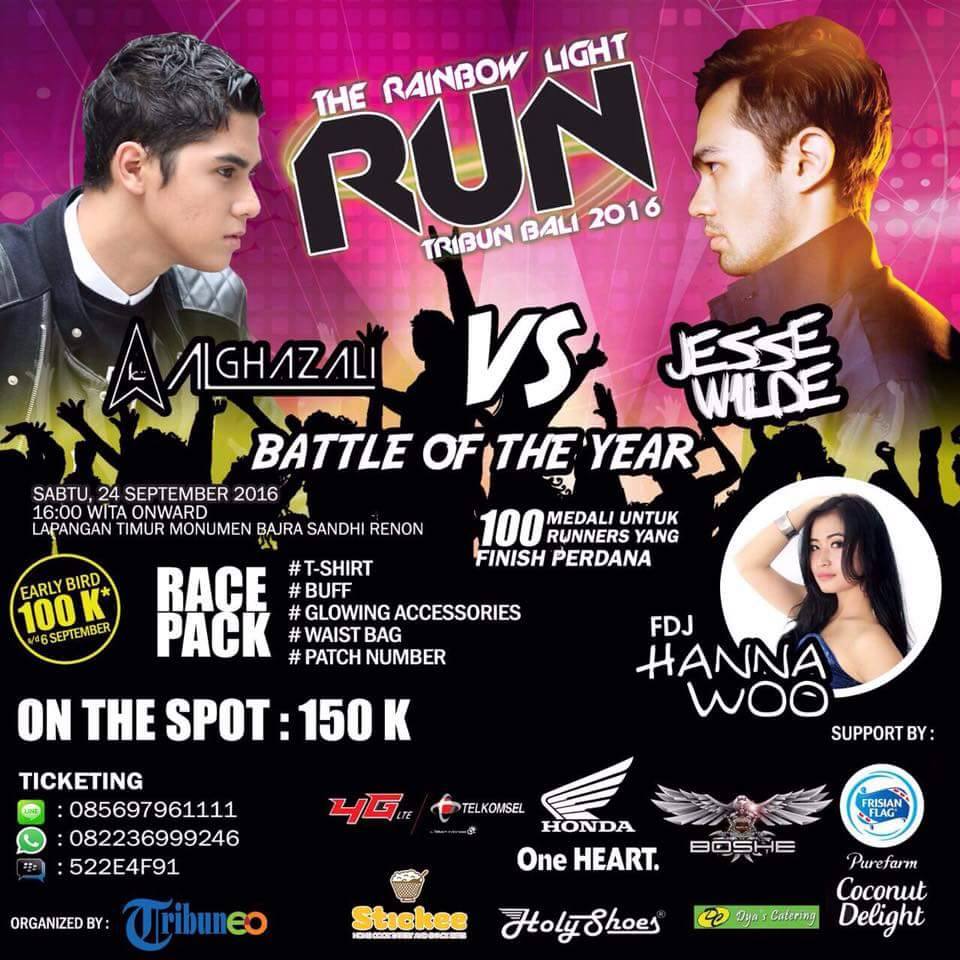 The Rainbow Light Run ~ 2016
*Run for Hunger People Campaign
*Run for Charity, not for ego Don't miss it guys!
Ajak teman-temanmu untuk tidak melewatkan acara Tribun Bali The Rainbow Light Run 2016. Selain lari malam bersama mengitari kota, kalian juga akan menyaksikan Battle DJ of The Year kami yaitu DJ Alghazali VS DJ Jesse Wilde.
Diramaikan dengan perform dari FDJ & Top40 band. So Lets come and join us ! Pembelian Tiket :
Perkantoran Kompas Gramedia – Kantor Tribun Bali – Jln. By Pass Ida Bagus Mantra No. 88 A, Ketewel – Gianyar
Pertokoan Hayam Wuruk – Kantor Tribun Bali – Jln. Hayam Wuruk No.98
Atau bisa hubungi ke : ☎️ :
0361-290086 / 082236999246//085697961111//082339309808
Kalau mau tanya-tanya, langsung hubungi ini aja >>>
Line 085697961111, WA 082236999246, BB 522E4F91
Keep healthy and party!!
#therainbowlightrun #TRLR2016 #tribunbali #bali
LariKu.info/the-rainbow-light-run-2016 The Rainbow Light Run


•

24 September 2016