Group
•• Road Run
17.8K @ 05.15 • 2000 Slots
10K @ 05.45 • 2500 Slots
5K @ 06.00 • 1500 Slots
Online.
bit.ly/titanrunid
All Category @ IDR.450rb
Open until 5 Juli 2018 or SoldOut
Early Bird Disc.20% – Limited Slots – kode'vocer. TITANRUN2018
RPC
Running Jersey • Bib + Tag • Goodie Bag • Finisher Medals
@ 4-5 Agustus 2018 • Lobby Graha Anabatic, Jl. Scientia Boulevard kav. U2, Summarecon Serpong, Tangerang, Banten
Prize
for 1st, 2nd & 3rd winner each Category @ male & female • Indonesian Only
etc
Tersedia Shuttle Bus @ Bekasi, Citos, Slipi n' FX ~ Start 03:30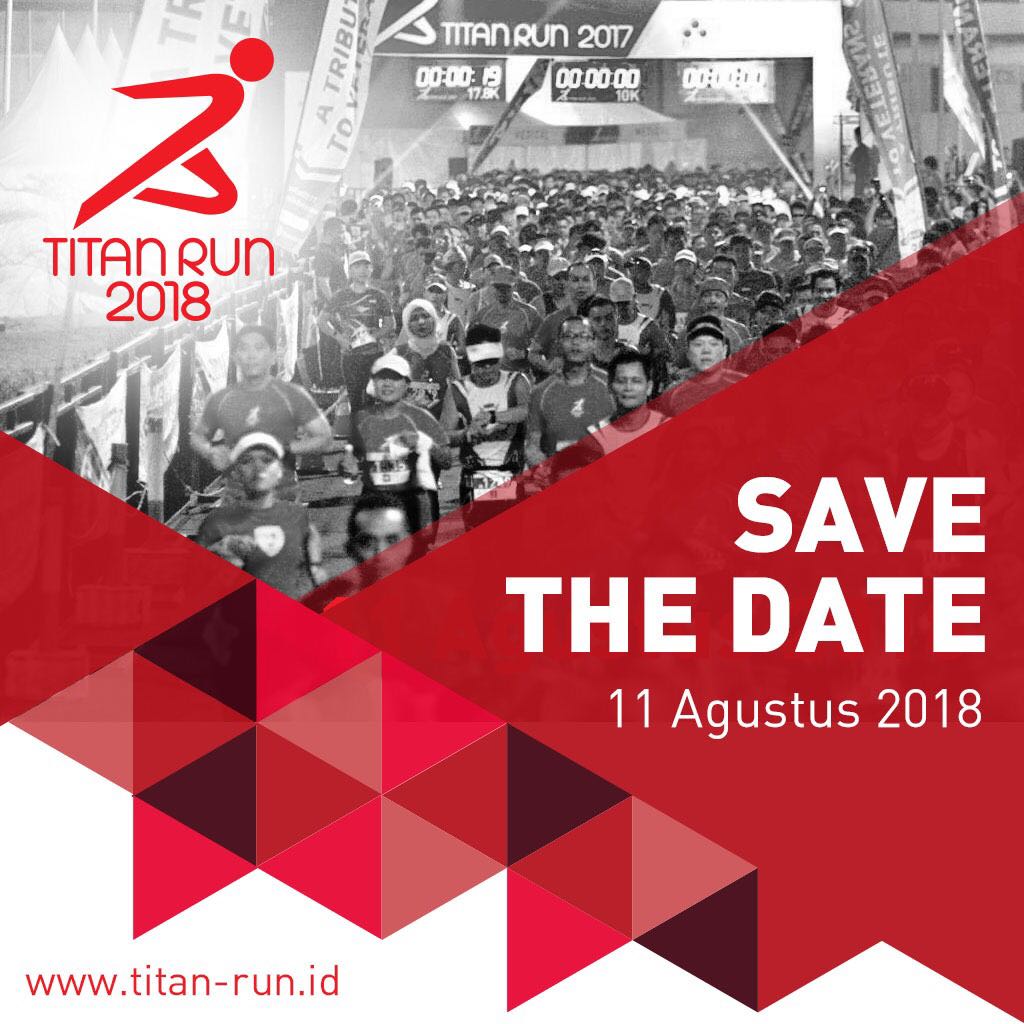 Titan Run • 2018
Save the date and be ready for the most prestigious races over the legendary 17.8 km distance to celebrate Indonesia's Independence Day!
Titan Run offers unique experiences with durians, foods, and each finisher comes home with incredible memories.
The first Titan Run was held in 2004 by Titan Group. With the intention of inviting people to start a healthier lifestyle, Titan Group has wrapped this running event with a lot of fun. Titan Run is also held to honour all Indonesian veterans and celebrate the
Independence Day of Indonesia
. For the past few years, Titan Run has consistently held the running event in August with unique race distance (17,8K) which is similar to the date of Indonesian Independence Day.
Another uniqueness in Titan Run is all-you-can-eat food and "Durian Party" which is served by Titan Group for free to all participants after the race and could be enjoyed on the spot only.
LariKu.info/Titan18 Titan Run


•

11 Agustus 2018