Venue
Toraja Misiliana Hotel – Rante Pao, Toraja – Sulawesi Selatan
Group
165K • Elev:6937m • COT:36hours
102K • Elev:4775m • COT:28hours
78K • Elev:3183m • COT:22hours
50K • Elev:2679m • COT:12hours
27K • Elev:1409m • COT:6hours
Closed • Until 01 September 2016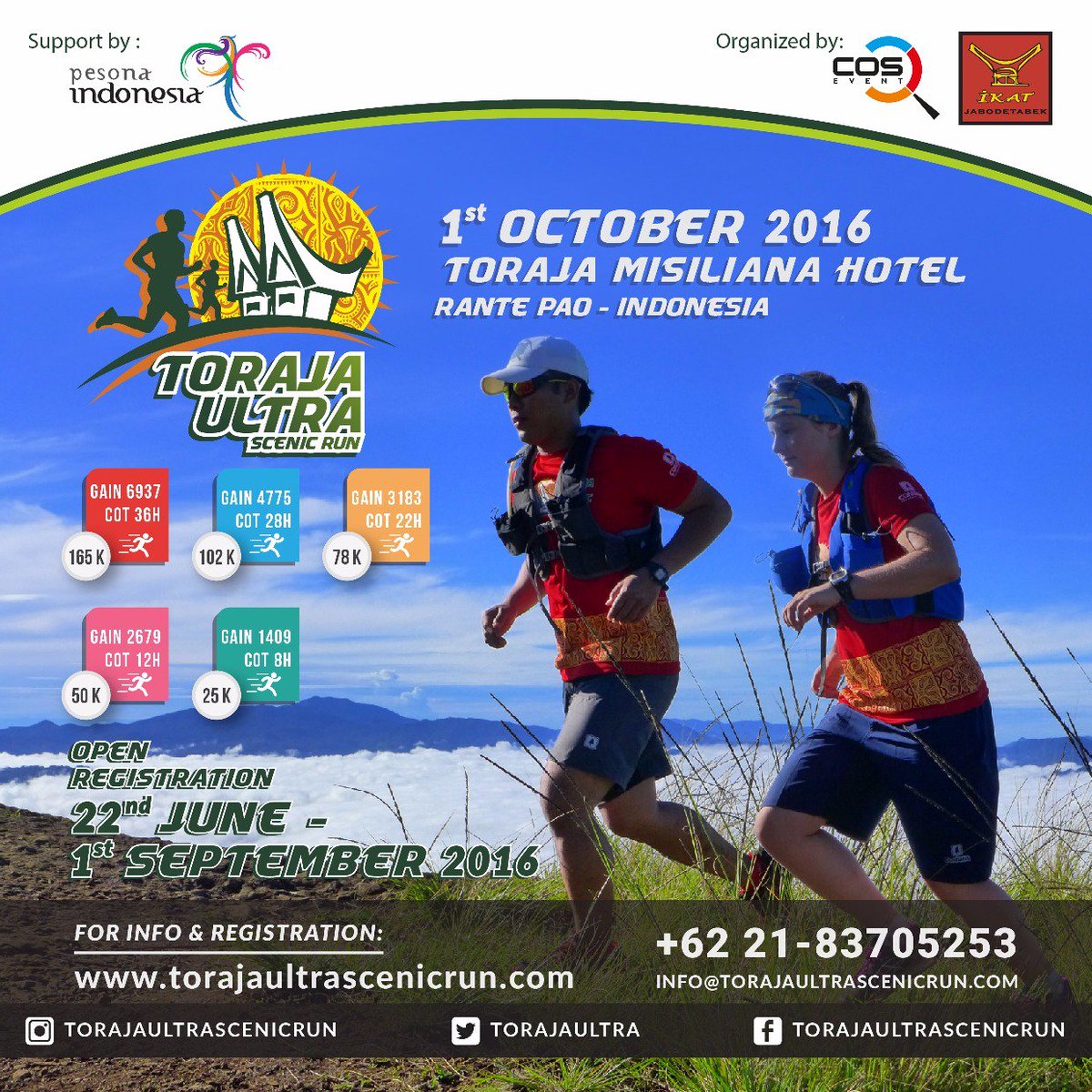 ?????? ????? ?????? ???
Toraja sebagai kota tujuan wisata merupakan pilihan tepat karena kaya akan lokasi wisata alam dan budaya yang eksotis, tentunya akan memberikan kesan yang berbeda ketika melakukan sebuah kegiatan lari di Bumi Toraja. TORAJA ULTRA SCENIC RUN merupakan event lari International yang pertamakali dilaksanakan di Tana Toraja dengan berbagai kategori diantaranya 27K, 50K, 78K, 102K dan 165K.
Toraja as a tourist destination is the right choice because there are a variety of tourist sites that can be visited and well-known for foreign tourists. Although the distance from Makassar (South Sulawesi) to Toraja took almost eight hours by road, still did not dampen the tourists to come with such a unique and interesting place.
Toraja tribal communities still adhere to the beliefs and lifestyles are very similar to typical culture in Nias, which makes Tana Toraja become one of the world cultural heritage sites on the UNESCO.
As our 4 th running event, COS Event invites to all the ultra runners to participate in the largest event ever held in Tana Toraja South Sulawesi . By taking locations in North Toraja which has the exotica of the natural beauty scenery, Toraja Ultra Scenic Run offers the experience of the race that treats runners the countryside, rice fields, coffee plantations , and Toraja traditional house (tongkonan).
For those ultra runners, you can choose the selection within categories from 27K, 50K, 78K, 102K and 165K. Every category will start from the venue which is very beautiful and being iconic location of Tana Toraja resort itself called Toraja Misiliana Hotel.
The route will start from the main road of North Toraja followed by rural roads and paddy fields and houses decorated with tongkonan. Furthermore, uphill cobblestone streets will welcome runners surrounded by beautiful views of rolling hills, coffee plantations and ancient tombs of native Toraja.
Toraja Ultra Scenic Run • 06 November 2016