Venue
Bebas / Anywhere (GPS Base)
Group
Mix-Trail/Virtual Run
Most Elevation Gain ∙ Strava Challenge
EO
MesaStila Resort + RaceYaya
etc
Aktifitas bisa dilakukan dari Senin hingga Minggu, mulai jam 04.00 dan berakhir max. 21.00
Peserta mampu menjaga keamanan & keselamatan selama ber-aktifitas. Dan mematuhi peraturan & protokol yang berlaku di tempat aktifitas dilakukan.
Peserta bergabung di the RaceYaya Strava Club dan Virtual Mesatila Run.
Peserta harus mencapai minimal ketinggian tiap minggunya untuk unlock minggu berikutnya.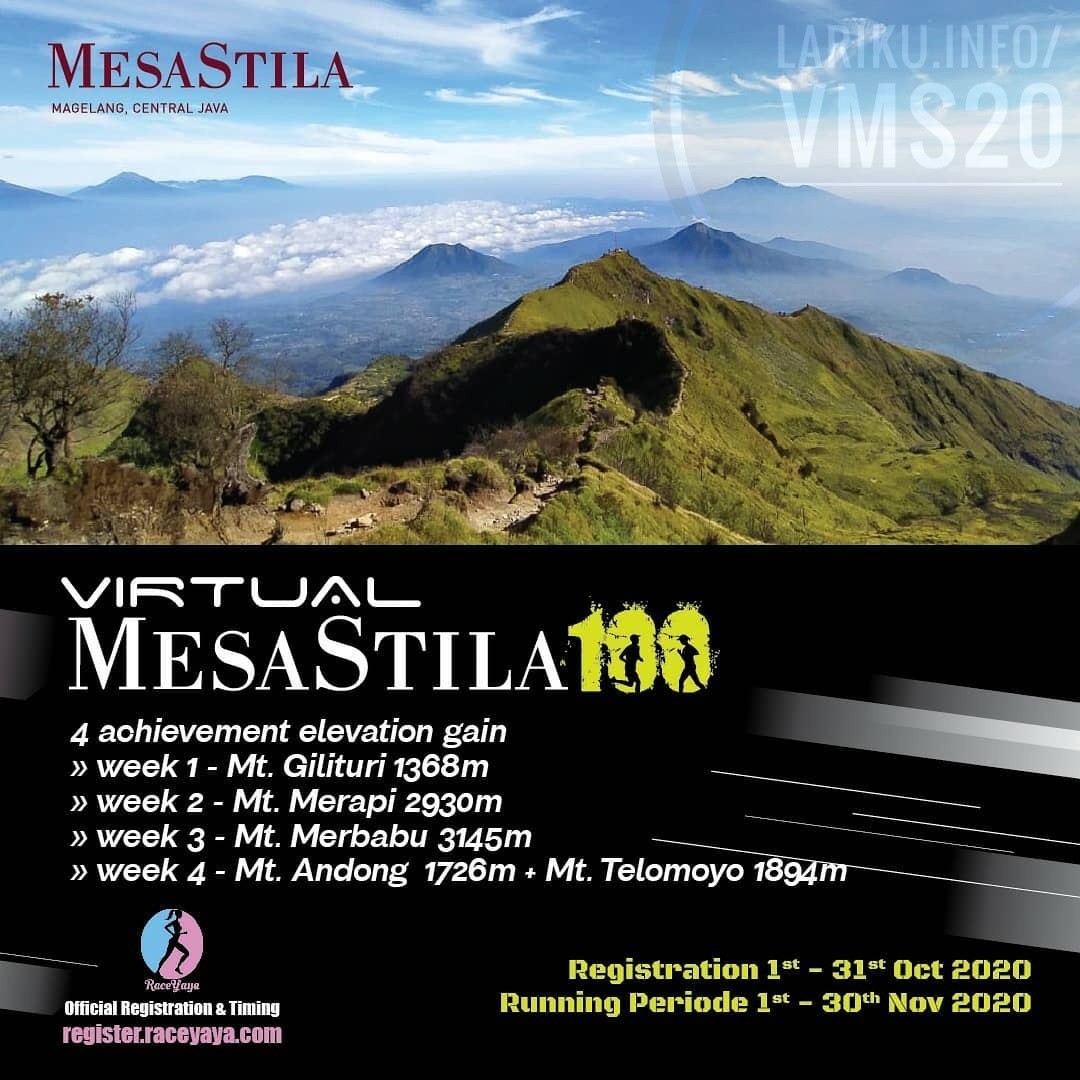 Virtual MesaStila100 • 2020
Let's Run the Indonesian Mountains in November. Virtual MesaStila100, mempertemukan orang-orang untuk mengembalikan perasaan sebenarnya tentang berlari, baik di jalanan maupun jalan setapak dari lokasi mana-pun kamu berada. Rute/lintasan, kecepatan, dan waktu tempuh kamu tentukan sendiri pada saat hari perlombaan. Peserta dapat menyelesaikan satu tantangan ketinggian dalam satu kali aktifitas, atau buat yang tinggal jauh dari dataran tinggi / pegunungan peserta dapat melakukan beberapa kali aktifitas dalam seminggu untuk mencapai total tantangan ketinggian.
Peserta diharuskan menyelesaikan total tanjakan 5 gunung di Jawa Tengah dalam waktu satu bulan yang akan dibagi dalam 4 minggu;
Minggu 1 – Mt. Gilituri – 1368m
Minggu 2 – Mt. Merapi – 2930m
Minggu 3 – Mt. Merbabu – 3145m
Minggu 4 – Mt. Andong 1726m & Mt. Telomoyo 1894m = 3620m
Peserta harus menyelesaikan tantangan ketinggian per minggu untuk dapat melanjutkan tantangan minggu berikutnya. Pemenang akan ditentukan dari total kecepatan waktu untuk mencapai ketinggian disetiap minggunya dan total waktu untuk mencapai ketinggian dari 5 gunung dalam periode lomba. Let's get back the true feeling of trail/road running from any location, with your own routes, your own pace, and time it yourself, on the day of the competition.
LariKu.info/VMS20

Virtual MesaStila100


•

01-30 November 2020