When
26 September – 03 Oktober 2021
Venue
Bebas / Anywhere (GPS Base)
Group
5K • Charity/Virtual Run
Limited Slots!
Open Dination!
Reg. Fee IDR.140rb
Online 🎫 spare∙id
Reg. ends 22 Agustus 2021
RPC
💳 e-Bib 👕 T-Shirt 🥤 Tumbler 📜 Certificate 🎁 Doorprize 💌 Donation
Prize
for 1st, 2nd & 3rd winner each Category 🏆
total hadiah sebesar 12 Juta rupiah
EO
FKM UI – Fakultas Kesehatan Masyarakat Universitas Indonesia
etc
Acara ini terbuka untuk umum.
Peserta menggunakan Aplikasi Strava.
Bentuk submission berupa link dari aktivitas lari yang telah direkam di aplikasi Strava, screen recording rekaman aktivitas lari di Strava, dan dokumentasi diri dalam format video singkat max. 10 detik yang memperlihatkan muka saat melakukan aktivitas lari.
Jika hasil rekaman aktivitas peserta tidak sesuai atau terbukti melakukan kecurangan, panitia berhak untuk mendiskualifikasi peserta.
Pengiriman race pack : 12 – 25 September 2021.
Pengumuman pemenang : 09 Oktober 2021.
Patuhi protokol kesehatan COVID-19 yang berlaku selama mengikuti acara ini.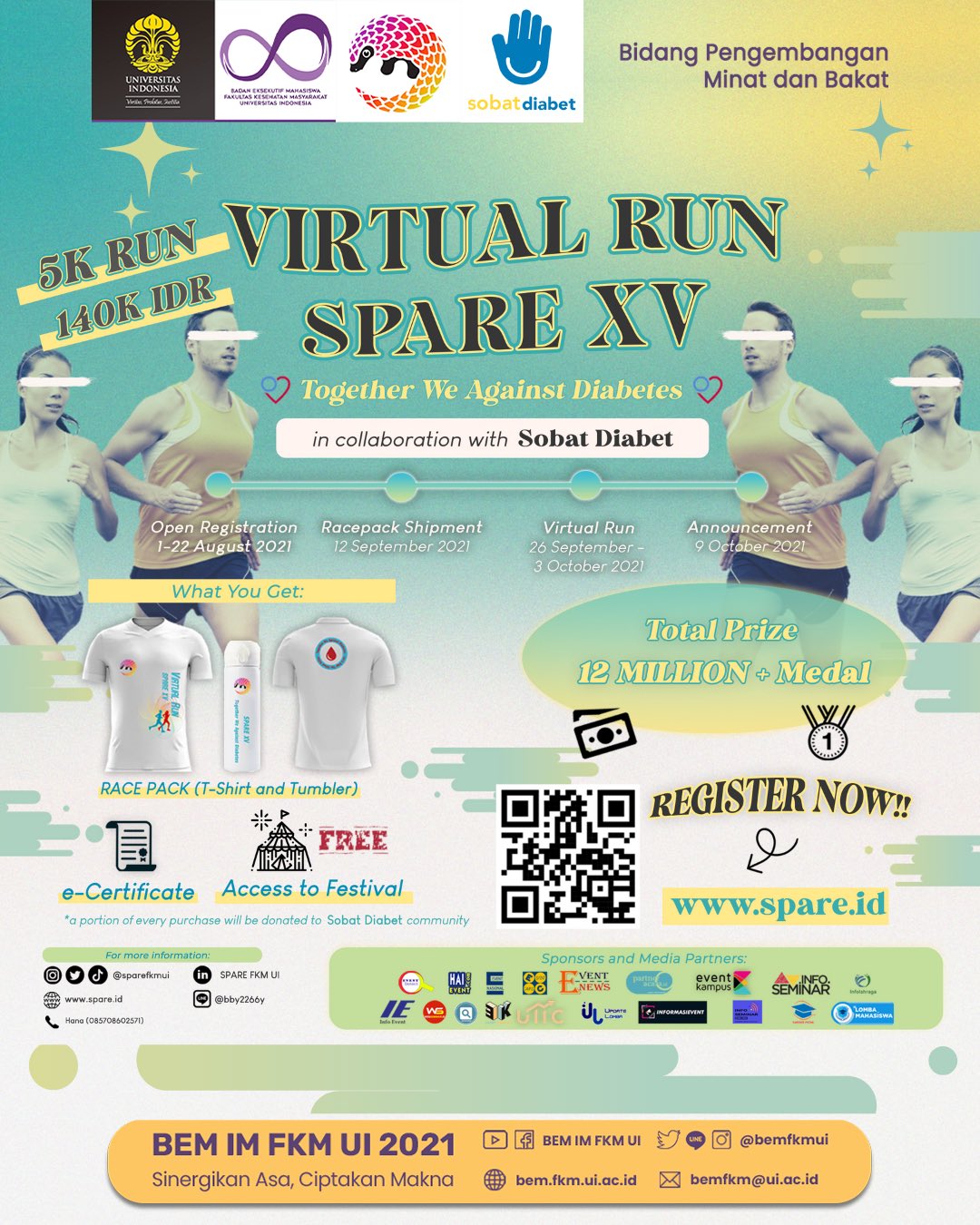 Virtual Run SPARE XV • 2021
Sport and Art Event (SPARE) hadir kembali dengan isu kesehatan dan rangkaian acara yang berbeda. SPARE XV bertujuan mempromosikan isu kesehatan melalui acara virtual run dan festival. SPARE XV mengangkat isu kesehatan tentang diabetes "Together We Against Diabetes – Let's Stop The Silent Killer" yang bertujuan mengajak masyarakat untuk lebih peduli terhadap penyakit diabetes Mengapa diabetes? Karena merupakan penyakit atau gangguan metabolisme kronis dan masuk ke dalam 10 penyakit pembunuh yang ditetapkan oleh WHO. Peningkatan kasus diabetes juga terjadi selama pandemi COVID-19 sebesar 6,2% berdasarkan data dari International Diabetes Federation (IDF).
Tidak ada obat untuk menyembuhkan diabetes, tetapi dapat dicegah penyakitnya dengan salah satu bentuk pencegahan primer diabetes. Mayoritas masih kurang pengetahuan akan bentuk-bentuk dari pencegahan primer diabetes, dan hanya pada "mengurangi konsumsi makanan dan minuman dengan kadar gula tinggi". Oleh karena itu, SPARE XV hadir sebagai wadah untuk meningkatkan pengetahuan masyarakat mengenai diabetes dan pencegahannya, serta mengajak kita semua untuk bersama-sama menjadi sehat. SPARE XV juga mengadakan donasi yang akan disalurkan kepada komunitas diabetes untuk membantu mereka dalam melawan diabetes. SPARE XV – Let's Stop The Silent Killer
LariKu.info/SPARE21

Virtual Run SPARE XV


•

26 September – 03 Oktober 2021
IG. #VirtualRunSPARE