Group
•• Triathlon – Individual / Team
• Olympic Distance Course
1.5K Swim 40K Bike 10K
Run Individual / Team
• Sprint Distance Course
500m Swim 20K Bike 5K Run
•• 5K Fun Run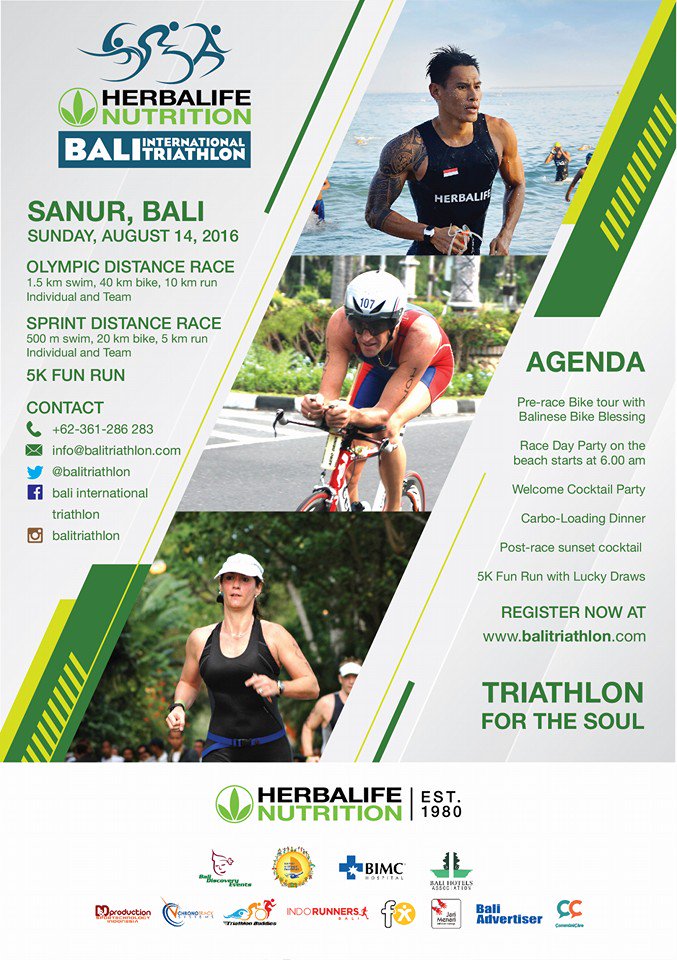 Herbalife Bali International Triathlon 2016
First held in 2007, the 9th running of the Herbalife Bali International Triathlon will be held on Sunday, August 14, 2016.
To accommodate a growing number of race participants and spectators, the 2016 Herbalife Bali International Triathlon will move a gorgeous new setting: the picturesque and welcoming traditional village of Sanur.
As in years past, the swim start of the race starts just after sunrise with this year's race stroking the calms waters off Sanur's Mertasari Beach, followed by bike sprints down the Ngurah Rai By Pass in Sanur to the IB Mantra By Pass in Gianyar and back to the beach side transition area before finishing with a road race through the streets of Sanur.
This year's title sponsor, Herbalife Indonesia, is part of the worldwide nutritional organization, now working in 90 nations around the world.
Back in 2016 as the title sponsor, Herbalife's championing of good health, sound nutrition and a healthful life style is a mirror-reflection of the lifestyle embraced by dedicated triathletes.
LariKu.info/herbalife-bali-international-triathlon-2016 Herbalife Bali International Triathlon


•

14 August 2016