When
03 September 2023 @ 06.00
Group
Speed/Obstacles Race
without or with obstacles
10K • Speed/Obstacles


•

COT∙3h:0m • IDR∙150/200/350/500rb
5K • Speed/Obstacles


•

COT∙1h:30m • IDR∙135/180/315/450rb
1K • Family Warrior Challenge


•

COT∙1h:30m • IDR∙180~2700rb
Obstacles • Kids-Individu or Team of 2-6
Limited Slots!
Flash Sale Only on 18 Juni 2023
EarlyBird Disc.60% On 19-30 Juni 2023
EarlyBird Disc.30% On 01-31 Juli 2023
Add-On Breakfast* IDR.150rb
Online 🎫 sgwrun∙com
Reg. ends 13 Ags 2023
RPC
🪪 Bib+ ⭕ Headband*** 🛍 Eco Bag 👕 T-Shirt 🏅 Finisher Medal 🍱 Breakfast* 🥤 Refreshment ✈️ LuckyDraw**
| | |
| --- | --- |
| 🗓 | 01-02 September 2023 |
| 🏬 | Summarecon Mall Serpong – Tangerang, Banten |
Prize
Top 3 Winner Speed & Obstacles Category 10K/5K @ male & female 🏆
Trip to Bali for 1st position Speed & Obstacles Category 10K ✈️
LuckyDraw Trip to Bali** for finisher Category 10K in 60min Speed Race or 78min Obstacles Race each Male & Female, and in 60min Group Challenge / Team of 3-6.
EO
Summarecon Mall Serpong
etc
Pendaftaran tidak dapat dibatalkan dan biaya pendaftaran tidak dapat dikembalikan.
Pendaftaran dan nomor dada peserta tidak dapat dialihkan kepada pihak lain.
Head band & Temporary Tattoo for Obstacles category***
Only participants who FINISH within specific time limit in each category will receive the finisher medals.
Hadiah tidak dapat ditukar ataupun diuangkan.
If any participant break the rules, she / he will be disqualfied without exception.
Serpong Green Warrior Run • 2023
THE BIGGEST RUNNING EVENT IN TANGERANG IS FINALLY BACK! Summarecon Mall Serpong presents "6th Serpong Green Warrior Run 2023!" Sebuah event lari halang rintang terbesar di Tangerang dengan kategori 10 km, 5 km, dan 1 km untuk Family Warrior Challenge.
Serpong Green Warrior Run 2023 is held by Summarecon Mall Serpong, as a collaboration of Summarecon Mall Serpong and trusted developer Summarecon Serpong. With fresh and more interesting concept, Serpong Green Warrior Run will give an ambience and challenges for professional runner and run enthusiast in Indonesia and the world. Come join us!! Win Spectacular Prizes!
Win Trip Bali, Cash Prizes, Shopping Vouchers & Many more!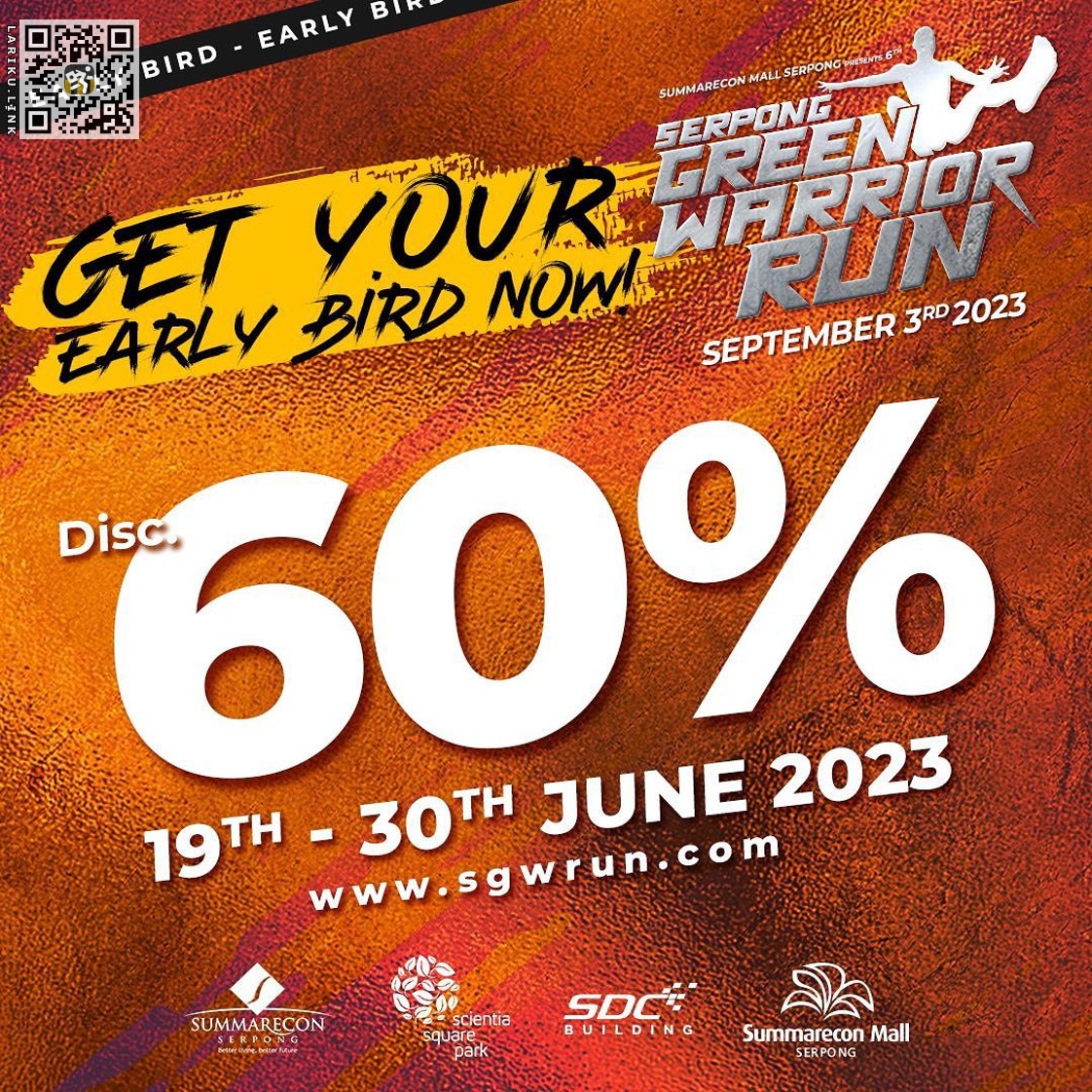 LariKu.info/SGWR23








Serpong Green Warrior Run


•

03 September 2023
IG. #SerpongGreenWarriorRun