When
31 Dec 2016 – 01 Jan 2017
Group
55K • COT:10Hours • IDR.200/280rb
25K • COT:6Hours • IDR.rb
•• Road Run
Early Bird IDR.200rb – Until 04 November 2016 • Normal Price IDR.280rb •
goo.gl/i4My7Q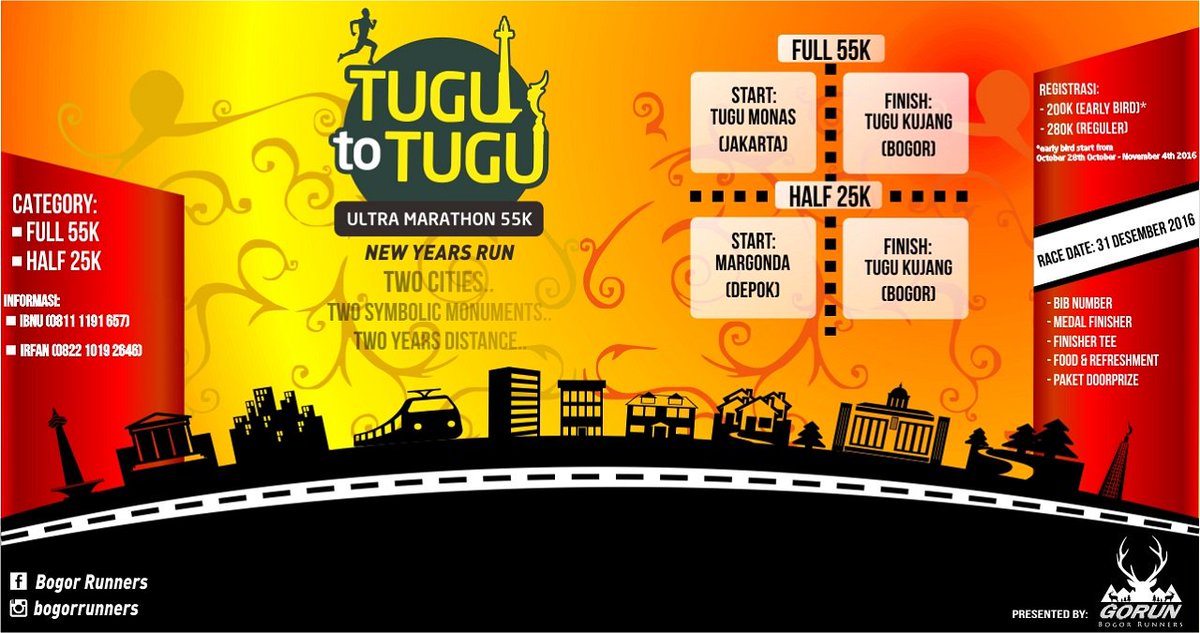 Tugu to Tugu Ultra Marathon – 2016
Tugu To Tugu Ultra marathon 55k adalah event ultra marathon tahunan yang diselenggarakan oleh komunitas Bogor Runners dan tahun ini merupakan tahun ke-tiga. Dalam acara ini, peserta akan berlari sejauh 55 kilometer dari Tugu Monas, Jakarta, menuju Tugu Kujang, Bogor pada malam pergantian tahun baru.
Tugu to Tugu: Chapter III
menawarkan sebuah pengalaman baru untuk melintasi jarak tersebut dengan berlari, tepat pada saat pergantian tahun. Sebuah momentum kenangan yang akan berkesan di hati para peserta. Tugu to Tugu. Event ini merupakan Fun Ultra Run yang dilaksanakan sejauh 55 kilometer yang dibagi menjadi dua kategori yaitu Full Ultra Marathon 55 kilometer dan Half Ultra Marathon 25 kilometer.
LariKu.info/tugu-to-tugu-ultra-marathon-2016 Tugu to Tugu Ultra Marathon


•

31 Des 2016 – 01 Jan 2017