---
Group
Night/Ultra/Loop Run @ 7K
•
COT∙12h:0m
Individu • 70K


•

10 Loops • IDR∙500rb
Relay 2 @ 35K


•

5 Loops • IDR∙1000rb
Relay 5 @ 14K


•

2 Loops • IDR∙2000rb
Relay 10 @ 7K


•

1 Loop • IDR∙3000rb
Limited Slots !
PayDay Promo ! Disc.20% on 27 Feb – 01 Mar 2020 : Code. UIULTRA-PAYDAY-20
Reg. ends 15 Maret 2020
Reg. ext. 30 April 2020
Online 🎫 uiultra∙com
RPC
Kaos Lomba • Bib • Bag • Finisher Medals • Finisher Tee for Individu 70K & Relay 35K • Refreshment
Prize
total hadiah 150 juta rupiah
for 1st, 2nd & 3rd winner
70K : male & female
Relay 2 : male, female & mix gender
Relay 5/10 : all genders
etc
Qualification. Selama 2 tahun terakhir pernah finish min. 42K untuk kategori Individu 70K & finish 21K untuk Relay 35K
---
---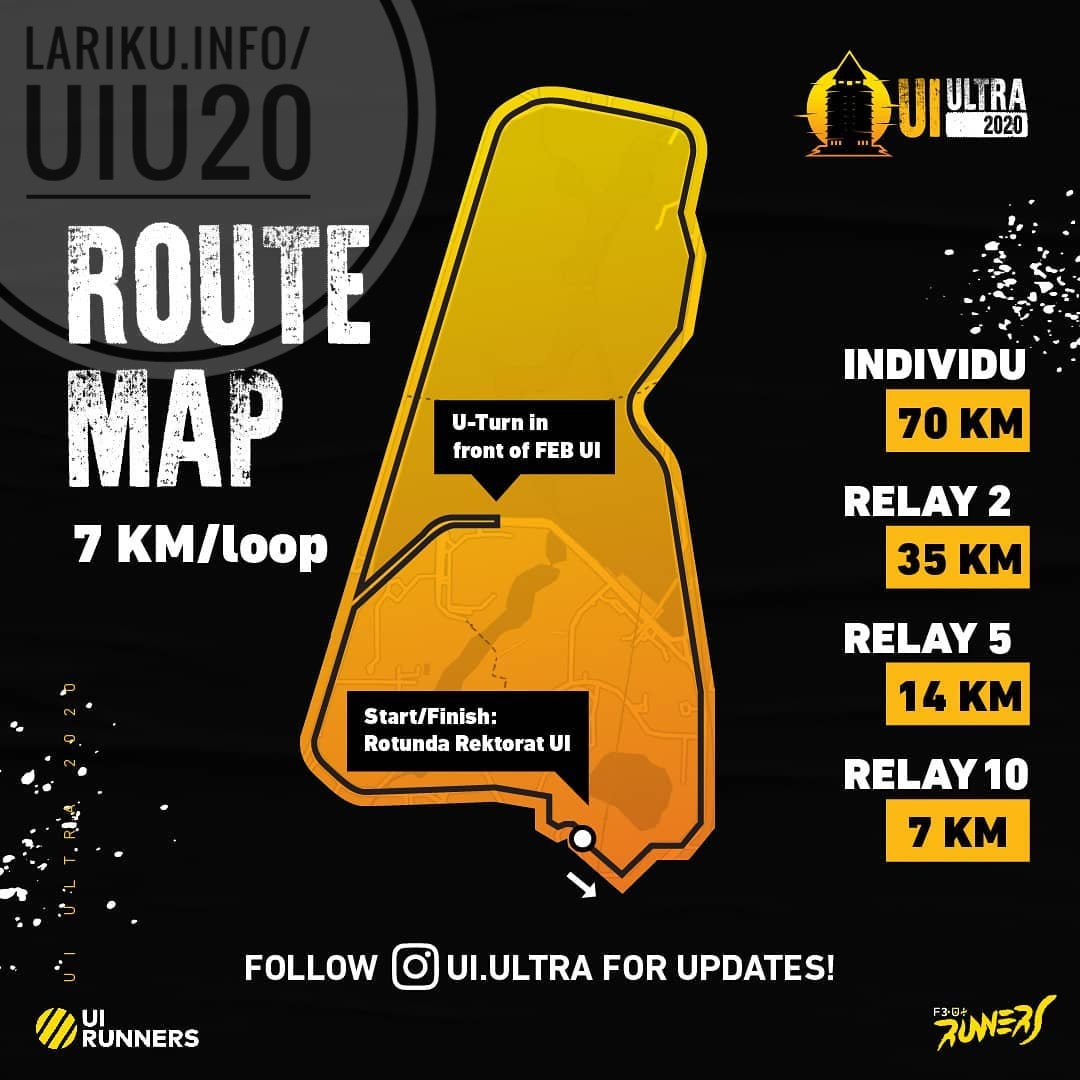 UI Ultra • 2020
Introducing UI Ultra 2020 ! Organized by FEUI Runners, this night race will take place at Kampus UI Depok with beautiful and sterile race course. Runners will enjoy a 7 km looping course circling amazing landmarks of Universitas Indonesia.
FEUI Runners akan mengadakan UI Ultra 2020, lomba lari ultra marathon dengan jarak 70 kilometer, yang merupakan angka simbolis menandai Dies Natalis – Universitas Indonesia dan juga Fakultas Ekonomi dan Bisnis Universitas Indonesia yang ke-70. Rasakan pengalaman berbeda dalam menyusuri kampus UI Depok dengan lomba yang dimulai di malam hari setelah matahari terbenam. Dan tentunya mengajak para pelari ultra marathon untuk merasakan lari di kampus Depok yang aman dan steril dari kendaraan. Ayo daftar ! Asah kekompakkan dan kebersamaan antar peserta. Are you ready to leave the sunset and embrace the sunrise?
LariKu.info/UIU20

UI Ultra


•

12-13 Desember 2020